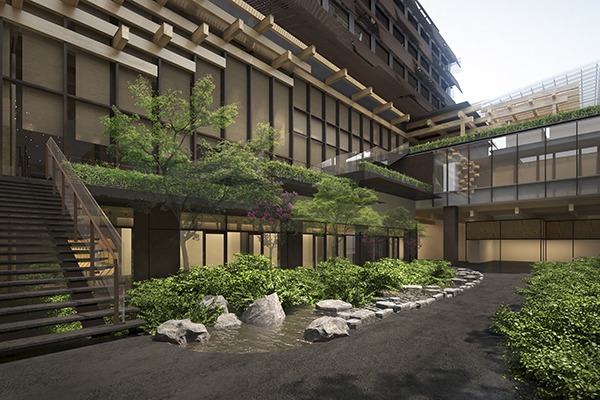 Ace Hotels has teamed up with NTT Urban Development and Japanese architect Kengo Kuma to create Ace Hotel Kyoto, set to open in Winter 2019.
Landing in a new cultural hub as part of the redevelopment of the existing ShinPuhKan scheme, Kuma's design incorporates elements of the historic former Kyoto Central Telephone Office into the newbuild hotel. The red brick office's central courtyard will feature alongside Kuma's wooden grid exterior, reminiscent of traditional Kyoto aesthetics. Elsewhere, the integrity of Aneyakoji and Higashino-toin road have been preserved through the use of louvers and meshes which double as environmental devices, filtering light and wind, whilst the concrete's distinctive warm colour is a result of mixing the material with iron oxide.
"The thought was to create a hotel that is connected to Kyoto and open to the surrounding area," Kuma explains. "To begin with, the proposition was to create a dense garden where communities, as well as the past and the present, are connected to this venerable land with its various gardens, which have existed since the Heian period. Every detail and material was thought through to connect the building, land and history together."
Designed as a hub for local and travelling audiences, the hotel will seek to channel the artistic spirit of the neighbourhood through collaborations with local craftspeople and a programme of cultural activities. Located centrally, the area around the hotel sits on the former grounds of the Imperial palace, and Ace Hotel Kyoto will be in close proximity to Nishiki Market, the Museum of Kyoto and Kyoto Art Centre.
"It's been our long-standing dream to put down roots in Japan," adds Brad Wilson, President, Ace Hotel Group. "We feel incredibly humbled and grateful to work with such well-respected and admirable partners as NTT Urban Development Corporation and Kengo Kuma to make our dreams a reality, creating a space that honours the beauty and history of Kyoto while fostering global connection and cultural innovation."