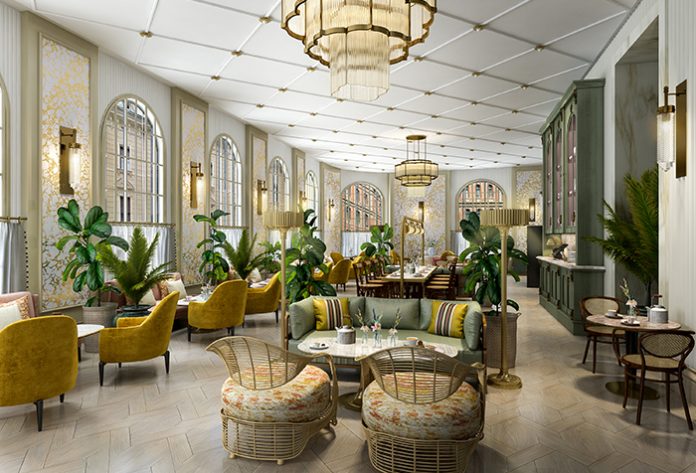 Amadria Park Capital has opened in Zagreb, becoming the fourth five-star hotel in the Croatian capital. Working in collaboration with project developers Ugo Group, HBA London converted the heritage property – originally designed in 1921 by Viennese architects Ernst Gottilf and Alexande Neumann, who specialised in landmark bank buildings in Europe – into a boutique hotel full of charm and sense of place.
Located on the central thoroughfare of Jurisiceva Street close to Jelacic Square – which was once no more than a country road winding its way through gardens and fields, and today is characterised by its local shops, cafes and restaurants – the hotel references a bucolic past through delicate floral details and generous indoor planting in both its public spaces and guestrooms. Bespoke interiors combine the original and the new, embracing the building's historic character as a significant example of Secessionist architecture and translating it light, fresh and elegant spaces with a touch of romanticism.
On arrival, guests are greeted by a refined and intimate reception, which features a soft colour palette blending pale blue and greys with crystal and satin gold. Behind two small desks are custom-designed sliding doors with panels of opaque and patterned glass that obscure the bar beyond.
The public areas are planned as a series of rooms, and reinforce the notion of a private home overlaid with something of a winter garden thanks to high ceilings, touches of Viennese-style detailing and an abundance of large pot plants. Taking cues from Gesamtkunstwerk too, the building's original, classically carved mahogany-clad columns were removed during construction and then reinstated, while listed ceiling features, light fittings and striking arched windows also kept their place. Nevertheless, new pieces have been interwoven to reflect the influences of 20th century design, from softly draped curtains to plush banquettes and restored antique furniture discovered in the building.
Meanwhile, the hotel's bar is topped with marble and features sculptural tiled front that sits in the centre of the space under three contemporary chandeliers, while an elegantly decorated ceiling references the building's Art Nouveau inheritance. Guests can choose to sip their cocktails on leather-upholstered bar stools or relax in the comfort of wicker armchairs.
Extending along one length of the façade, the café also offers a variety of seating options from a marble-topped sharing table to deep armchairs arranged around low tables and dining tables with European brasserie style chairs. The colour palette is of soft green and yellow, while velvets, trims and patterns predominate the upholstery and multiple floor-standing pots showcase large vertiginous plants. The café also doubles up as the hotel's main event space with heavy velvet curtains that can be drawn across for privacy. Overscaled illustrations by David Doran adorn the space, while artwork in the dining room is by Croatian artist Mario Matakovic, who repurposes his old work into new compositions with an original aesthetic.
Completing the F&B offer, the hotel's restaurant continues the indoor garden narrative with generous amounts of planting all around. The original mahogany cladding of the old banking hall is softened by delicate original wall lights restored by HBA London and complemented by fresh green hues and golden highlights, while in the centre of the room, a large ceiling light puts a contemporary twist on classic European lighting design.
Original, listed staircases lead up to bedroom corridors that wrap around a central courtyard and feature folkloric-inspired patterned carpets and punchy-blue guestroom doors. Guestrooms are residential in feel with a palette of pink, pale yellow and blue, and feature contemporary Italian timber flooring from Berti. Filled with natural light thanks to their large windows and high ceilings, the spaces nod to the rural past of this location, while bathrooms are classically styled with a marble topped vanity, checkerboard tiled floor and a walk-in shower with fittings by Grohe.
Elsewhere, a series of grand suites are housed in The Bel Étage, a historic floor that is strictly protected, meaning design changes were constrained. HBA London therefore focused on the selection of new furniture and accessories.
Artwork in the guestrooms and corridors has also been curated by HBA in collaboration with Muzeo, and is composed of both handwritten and illustrative pieces as well as work inspired by textiles and crafts. Traditional, contemporary and contextual, the artwork lends insights into the heartbeat of the city, both past and present.
"This has been a very special project because the client gave us creative free rein to think afresh and design a hotel that is different for Zagreb," says Constantina Tsoutsikou, Creative Director, HBA London. "We were blessed with the Secessionist and Art Nouveau   heritage, and this lovely period for design infuses the new interiors which are fresh, playful and a little magical within a sometimes imposing architectural form. There will be something of a Croatian fairy tale to the guest experience."