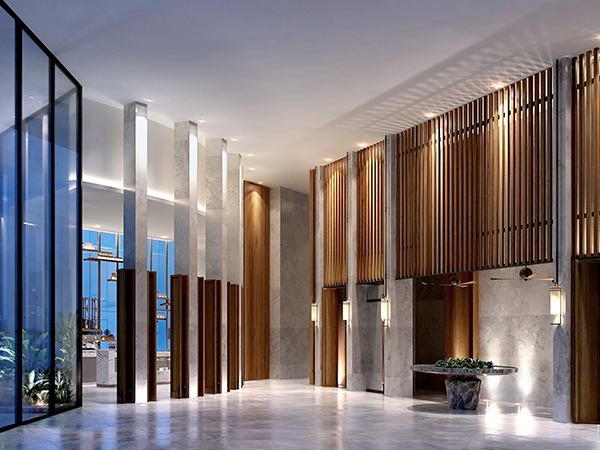 Andre Fu has completed the design of Andaz Singapore, a contemporary lifestyle destination that embraces the energy of Singapore's urban spirit.
Fu and his design studio AFSO seek to capture the city's eclectic shop-house experience of dining, working within the framework of the modernist duo development by German architect Ole Scheeren. The designer has fashioned a multilayered journey that conveys relaxed luxury yet captures the vibrant atmosphere of local areas such as Kampong Glam and Bras Basah Bugis. The hotel evokes a strong sense of discovery, an experience that is quintessential to Singapore itself.
The journey begins with an 8m high lobby comprising an abstract interpretation of the shop-house façade, a recurring theme throughout the hotel. The arrival experience will also introduce the concept of a Pandan, with a selection of sweet and savoury soft buns on offer.
The hotel's F&B offer, Alley on 25, brings the spirit of the local neighbourhood into a matrix of seven distinct shop-house experiences. The seven venues include Andaz in the Square, a modern open courtyard featuring tropical plantations and a bronze shop-house façade; Icehaus, an open kitchen crafted in monolithic white Carrera marble that evokes a casual-chic café experience; and Aunties Wok & Steam, an intimately-proportioned dining room dedicated to the art of steam and wok cooking with panoramic views of the city.
The property also features a floor dedicated to events, enlivened with bold artworks by artist Monica Delgado and Ahmad Abu Bakar. In-keeping with the shop-house spirit, the event venues are distinctive and charismatic.
The Glasshouse is a 8m high space, comprising a floor-to-ceiling window garnished with full timber slatted partitions typical of modern Asian aesthetics. Garden Studio, an events venue that opens onto a vast adjoining outdoor terrace, is decked with potted fan palms. Architecturally, the studio includes a standalone pavilion within the sandstone-clad volumetric space to provoke a play of indoor and outdoor.
Lined by a curvilinear passageway, there are also two multi-purpose studios. The Heart of the House and the Banquet Kitchens are also designed as an extension of this event experience. Featuring natural daylight and decorated with a custom-made mosaic in aubergine and racing green, the space encompasses the life and energy of a genuine kitchen.
In-keeping with the alley concept, guestrooms also embrace the neighbourhood spirit. Additional facilities include 665°F, an aspirational dining experience located on level 38, and Mr Stork, a destination rooftop bar set within a tropical landscape and cobbled paving.