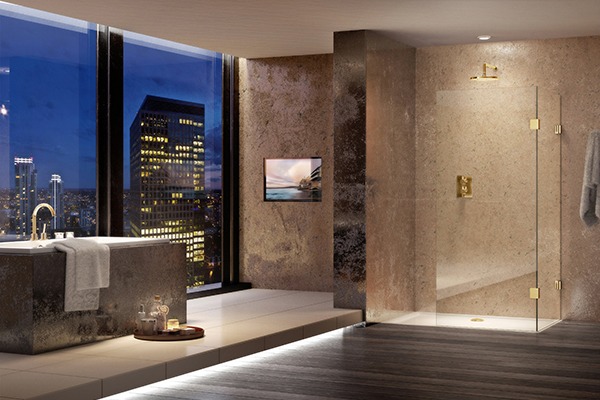 Aqata has launched its 2018 Design Solutions Brochure, tailored towards designers searching for bespoke, handcrafted bathroom products. Featuring designs that incorporate the brand's entire portfolio of 10mm shower enclosures and screens, the brochure offers design options to suit a variety of bathrooms sizes and schemes.
The Design Solutions range was launched in 2017 with an emphasis on minimalist designs and versatility. Offering shower enclosures and screens which can be customised to suit individual preferences, the range offers flexibility across wall fixings, glass types, etched designs, handle options and coloured finishes.
For 2018, the Design Solutions range has been expanded to include a number of new enclosures including; the DS476 – a three-sided enclosure with integral top rail brace bar; the DS491 – a practical outward opening screen; and the DS500 Quintet enclosure for corner spaces, complete with coordinating shower tray and available 900x900mm and 1200x900mm.
New colour wall fixings are available in gold, polished nickel and brushed nickel finishes and, for the first time, with the spectrum of Design Solutions options. The brochure also contains a selection of low level shower trays, with the 35mm low level shower trays boasting removable panels and adjustable legs. Each tray comes complete with a  chrome finish hi-flow waste with a removable trap for easy cleaning.