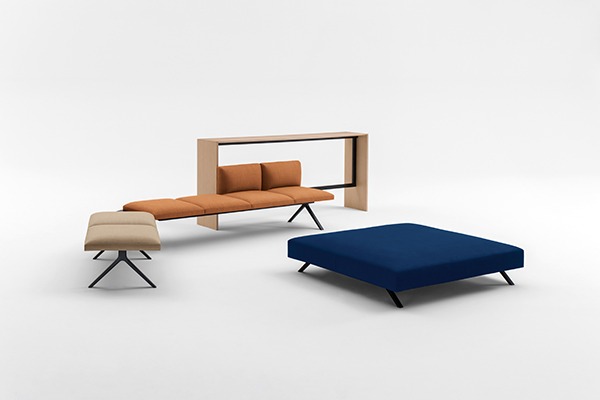 Designed by Tokyo-based Iwasaki Design Studio, Kiik by Arper is a new modular collection comprising seating, tables, ottomans, and consoles with minimal forms that come together in endless compositions.
To celebrate the launch of collection, Arper presents In Situ, a series of four virtual environments – Flow, Cupula, Frame, and Tower – each featuring a unique architectural vision and iteration of the collection. Cupula consists of a domed structure housing Kiik in loose arrangements among a jungle of plant life and bold colour, while Tower is a multi-storey geometrical space which creates a sense of verticality and offers an elevated point from which to view Kiik in an island of primary colours.
Designed by Barcelona-based Studio Maio in collaboration with Jeannette Altherr of Lievore Altherr, and digitised by American artist and designer Tom Hancocks, the environments explore the possibilities of a virtual architecture and its ability to convey particular emotional qualities, while offering four distinct ways to experience Kiik.
The collection is also defined by versatility, with its fundamental structures available in a variety of finishes, heights and shapes to create unique expressions and compositions to suit myriad spaces.
"By observing spaces where people come and go – parks, museum, airports, and the like – I began to think not about shape, but the ways of gathering," comments Ichiro Iwasaki, founder, Iwasaki Design Studio. "As a result, Kiik was designed to be in harmony with a variety of spaces, an idea illustrated beautifully as well as practically through virtual reality."
Kiik will make its US debut at the New Museum in New York City on May 16th, where visitors can access experience In Situ via a QR code.