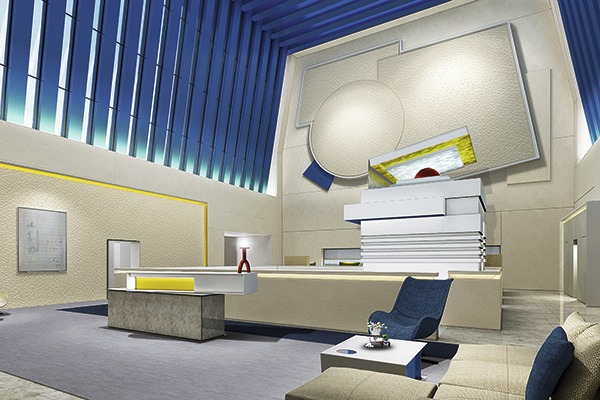 Artyzen Hospitality Group is set to open its second hotel in China, Artyzen Hotel, within the anticipated Sifang Collective arts hub.
Situated in Nanjing, the project comprises 22 buildings designed by two-dozen of the most recognisable names in international and Chinese architecture. Featuring creations by dissident artist Ai Weiwei, British architect David Adjaye, and Italian designer Ettore Sottsass, the mixed-use project will house art galleries, conference and event spaces, a museum and spa.
Part of CIPEA (The China International Practical Exhibition of Architecture) Sifang Collective is set for a 2018 opening, and features interiors by Hirsch Bedner Associates throughout the hotel element.
Situated within the Sottass-designed recreation centre – a bold, enveloped structure incorporating circular walls and an internal garden – the 22-key hotel features public and private spaces designed with bold primary colours and prominent geometric structures.
Emphasising a light atmosphere to create a sense of space, guestrooms will feature walk-in wardrobes, freestanding bathtubs and panoramic views out to the lake, woodland and hills that surround the cluster. HBA's use of irregular wall grids, geometrical rugs and contemporary furnishings seeks to fuse the scheme with Sottass' distinctive vision and Artyzen's philosophy of art, culture and emotional wisdom.
"Sifang is a one-of-a-kind project, unique in so many different ways. Not just a hotel – an experience – driven by remarkable architecture that is not just about design," says HBA Partner David T'Kint. "All the buildings somehow embrace the natural surroundings and each unit is unique and has its own narrative."