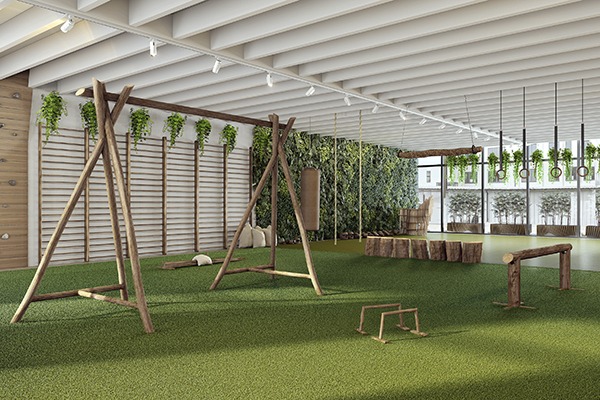 Biofit, a natural gym concept aimed at the real estate and hospitality markets, is set to launch in January. The tech-free space will feature Biofit's handcrafted kit made of natural materials, and will incorporate aromatherapy, acoustic playlists and indigenous air purifying plants for a multi-sensory, nature-centric training space. Combining real-world exercises with mindful movement to engage the brain, Biofit seeks to leave clients physically and mentally fitter.
The full Biofit concept will be brought to life in a pop-up studio in west London from 9 January – 3 February 2017 where group classes, workshops and corporate team-building sessions will be offered. The skill-based classes will focus on movement and mobility, strength and stamina and play and fight techniques.
During the January pop-up, Biofit has commissioned a new research project from the Ukactive Research Institute. The first of its kind, the research is aimed at evaluating the impact of exercise in a biophilic indoor environment, exploring key markers including mood, anxiety levels, attention span and mental performance. The environment features specially created flooring by Interface throughout, including zones created to mimic the look of freshly cut grass, grassy verges and golden beaches.
Biofit Founder Matt Morley comments: "Human evolutionary history shows we've been lifting, carrying, jumping, striking and crawling for millions of years, working at varying speeds and intensities according to circumstance; so we start there. To counteract the effects of a sedentary, 21st century lifestyle, Biofit then integrates mobility work into every session to restore range of motion and protect the joints from injury. We also use play to practice new movement skills and stimulate the neurological pathways in a fun, interactive way."
Biofit's interiors have been developed with landscape architect Lily Jencks, who created the restorative healing gardens for the Maggie's Centres around the UK. The brief was to create the world's first truly biophilic indoor gym through the use of natural vegetation, colours, materials, shapes, scents and sounds, and is already being leveraged by tech companies including Apple and Google for its impact on employee stress and productivity levels.
"Our society needs to calibrate our relationship with the natural world, which is leading to a surge in this kind of biophilic, nature inspired design," comments Jencks.
In response to the lack of suitable equipment on the market, Biofit has developed its own range using natural materials including timber, cotton and rope. Handmade by craftsmen in England, each piece of premium all weather kit is designed to be non-prescriptive, facilitating a multitude of movements.
Biofit will offer a complete turn-key solution for the hospitality, wellness, residential, real estate and corporate office sectors. It will encompass facility design, equipment sourcing and supply, as well as on-going training and support for coaching staff.