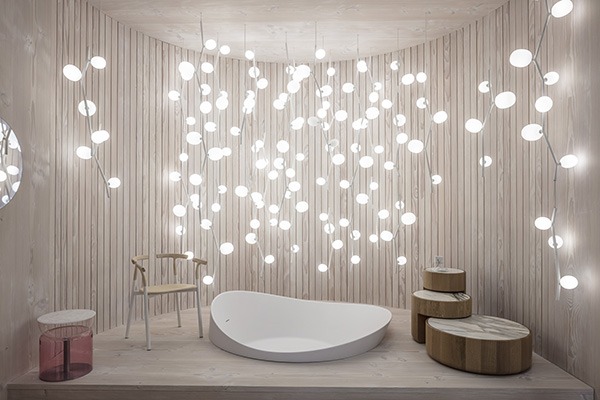 Czech Lighting specialist Brokis has announced the launch of Ivy, a nature-inspired system first showcased at Clerkenwell Design Week 2018 (CDW). Designed by Brokis art director Lucie Koldova, Ivy has been conceptualised to resemble the plant from which it takes its name, arranging modular components so that they appear to climb the wall.
"I wanted to achieve a balance between light and the other products in the home and illustrate their narrative through poetry and symbols of living," Koldova explains.
Customisable in a wide variety of installation options, Ivy also offer three sizes of glass bulbs in either opal or smoked glass. The branches of the system can be hung separately or joined together to create a curtain of light, as they were at Brokis' Das Haus CDW installation, forming a cover above a deeply inset bathtub.
Ivy has been launched alongside several other new lighting systems, including Puro Sparkle – a geometric star-shaped arrangement of the brand's versatile Puro collection – and Jack O' Lantern, a suspended or wall hung composition of pearl lights contained within a linear metal frame.
"We design our lights to be timeless yet sophisticated," says Brokis CEO, Jan Rabell. "Each new collection is a challenge put to the saturated lighting market. We strive for technological perfection based on the traditional craftsmanship of blowing glass by hand."