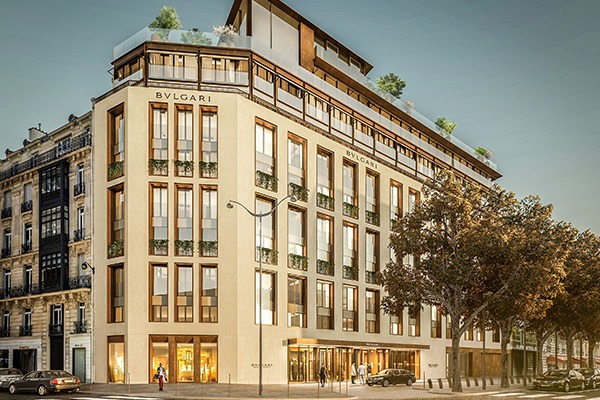 Bulgari Hotels and Resorts has announced an agreement for a new hotel in Paris, scheduled to open in 2020. This new opening will follow launches in Beijing and Dubai in 2017, Shanghai in 2018 and Moscow in 2020, and bring the Bulgari Hotels and Resorts Collection to eight properties, including Milan, London and Bali.
Comprising 76 guestrooms and a range of luxury facilities  – including a spa, 25m swimming pool and a Bulgari restaurant and bar opening to a courtyard garden – The Bulgari Hotel Paris is being designed by Italian architectural firm Antonio Citterio Patricia Viel and Parisian studio Valode & Pistre.
The hotel will be located at 30 Avenue George V, the avenue joining with the Champs Elysees and the Avenue Montaigne to form the Triangle d'Or, one of Paris' most exclusive areas, with a wealth of luxury shopping, entertainment and cultural attractions nearby. The restyling of the building has been conceived as a transition to modernity, and incorporates traditional Parisian limestone, a renewed façade evoking a rationalistic style and aesthetics reminiscent of 19th century Haussmanian urban patterns.
Jean Christophe Babin, CEO of Bulgari comments: "We are particularly proud to have secured such an extraordinary location for the new Bulgari Hotel in Paris. The Paris Hotel, to be opened in 2020, will add the City of Lights to our Collection and we are convinced that this new addition will represent an irresistible Roman jeweller hospitality experience in the Parisian upscale hotel market."