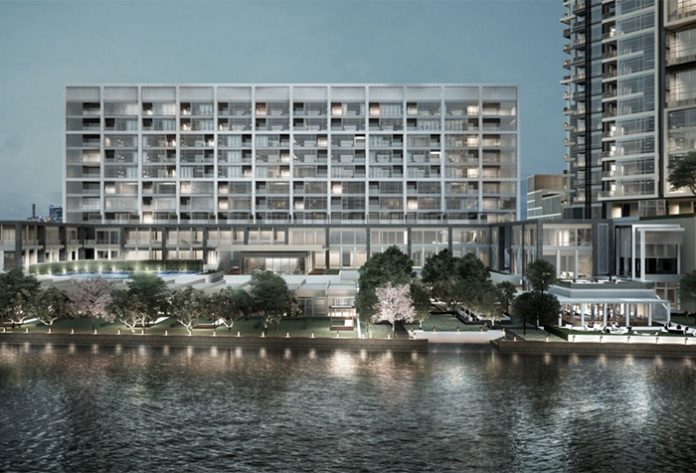 Capella Bangkok will open its doors this summer, marking the first launch of a hotel along the banks of the Chao Phraya River for two decades. Set in the heart of the creative neighbourhoods of Chao Phraya and Charoenkrung, the property comprises 101 villas and suite and will become the first urban Thai property from the Capella Hotel Group.
Woven among one of the city's oldest neighbourhoods within the 14-acre Chao Phraya Estate development, Capella Bangkok's 350-metre riverside setting provides each villa and suite with unobstructed views of the river, while The Capella Living Room, a river-facing lounge filled with natural light, will host a carousel of local artisans, musicians and chefs and will reflect the neighbourhood's passion for food, wellness and culture. Further, a number of 'Capella Personal Assistants' will curated crafted guest experiences that engage with the areas' rich locality.
Meanwhile, the hotel's signature restaurant will be curated by Michelin-starred chef Mauro Colagreco, whilst spa facility Auriga Wellness will offer a list of carefully curated Asian therapies that combine traditional techniques with contemporary solutions.
"The revival of the riverside has been happening organically for some years now and it's incredible to experience the enthusiasm everybody has for a return to the city's original roots," says John Blanco, General Manager of Capella Bangkok. "It's reminiscent of the redevelopment of historic – and often artistic – waterfront locales in other major metropolises such as the Meatpacking District in Manhattan and Belém in Lisbon, and I have every confidence that it will have the same uplifting effect on the city as a whole."
"I am sure our guests will enjoy exploring the locale and discovering the diverse street food stalls, riverfront seafood markets and decades-old shophouse restaurants including the legendary Thip Volcanic Fried Mussel & Oyster, in addition to the fashionable new eateries celebrating Bangkok's bygone culinary roots," Blanco continues. "Guests are also sure to be enamoured by groups of all ages performing tai chi and yoga along the river and games from badminton to native takraw."