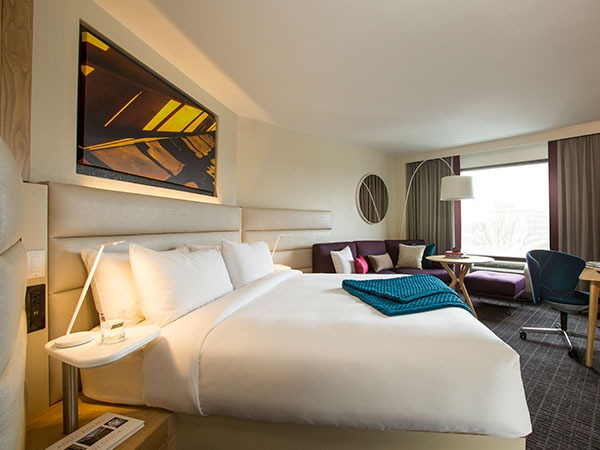 Crowne Plaza Hotels & Resorts has unveiled its next generation guestroom, developed with industry-leading influencers and experts to meet the changing needs of today's modern business traveller.
The new guestroom is slated to launch in America in 2015 at the Crowne Plaza Atlanta Midtown, Atlanta. Following the belief that guestroom design, particularly the placement of beds, has remained virtually unchanged for 60 years, the new design will introduce an angled bed design, reducing noise levels.
Working for the past two years with leading designers from outside the sector, Future Agenda and Pearson Lloyd, specialising in areas such as the future of workspace, Crowne Plaza Hotels & Resorts has developed a design that aims to radically challenge the traditional norms of business space in hotels, creating a modern environment to meet the needs of business travellers in the 21st century.
Keith Barr, Chief Commercial Officer, IHG comments: "At IHG we have a deep understanding of our guests, and meet their differing needs through our family of brands. At the heart of Crowne Plaza Hotels & Resorts brand is a commitment to helping the modern business traveller meet the challenges and hectic pace of today's 24/7, 'always on', environment. Our innovative, intuitive guestroom design creates a fantastic new space that will encourage them to be productive, but also to rest and, crucially, to get a great night's sleep. The response from guests has been outstanding. They tell us they can rest more easily and can focus more on what they need to do to be successful. We want to help all our guests to have a successful life, not just a successful stay."
The room allows guests to move freely between three key areas: a cocooned bed, a flexible 'nook' and a streamlined workspace. The layout also ensures that there is enough space available for guests. The bed has a padded, curved headboard, which, along with insulated wall panels on each side of the room, dramatically reduces noise levels and helps with better sleep. The 'nook' area offers a multi-purpose and comfortable space to hold informal meetings, doubling as an area to socialise and relax away from the traditional workspace, and the multi-purpose workspace aims to offer a clutter free surface with accessible outlets and adjustable lighting, creating a productive environment for work as well as catering for vanity needs.