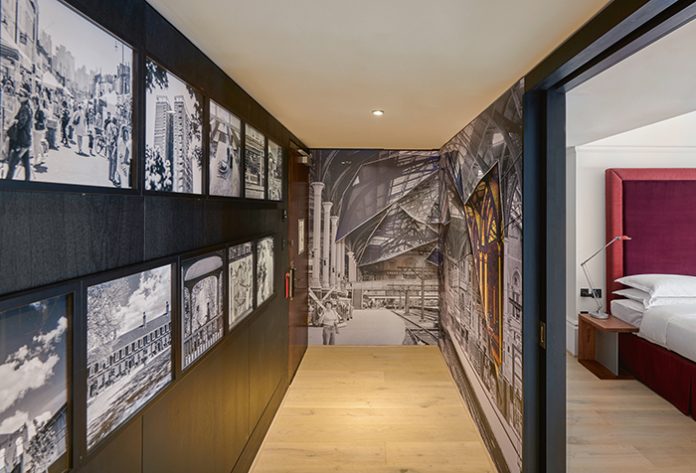 London-based art consultancy Dais Contemporary has provided a collection of bespoke commissions for the Andaz Red Suite at Andaz London Liverpool Street Hotel, bringing together photography and art exploring the history and culture of the hotel's surrounding area.
The suite features a series of black and white photographs produced by University of East London graduate Nobuyuki Taguchi, depicting a variety of local spots and well-known areas of the East End and the city; a collage wall by conceptual artist Abigail Reynolds comprising vintage photos of the nearby Liverpool Street Station; a large scale abstract watercolour painting by local artist Damien Borowik; and a two metre high bedroom painting by Central Saint Martin's graduate Rachel Gerrard. The collection speaks of the hotel's inherent and historic relationship to the surrounding locale, as well as the social-leanings of the Red foundation.
"We were honoured to work with Sir Terence on this project because we know it is a space that is close to his heart, being that he originally designed the interiors for it over twenty years ago," explains Lydia Cowpertwait, Director and Curator, Dais Contemporary. "Commissioning artworks that reflect the culture and vibrancy of East London was a satisfying venture. I originally ran an art gallery in Hoxton and have been a resident of the East end for nearly ten years so the project resonated with me. The artists we worked with were excited to be involved and we have received lots of positive feedback from people who have seen the suite and the artworks. Curating art in a space like this is a great opportunity to tell a story and create a sense of place."
Scroll down to see some highlights from the collection.