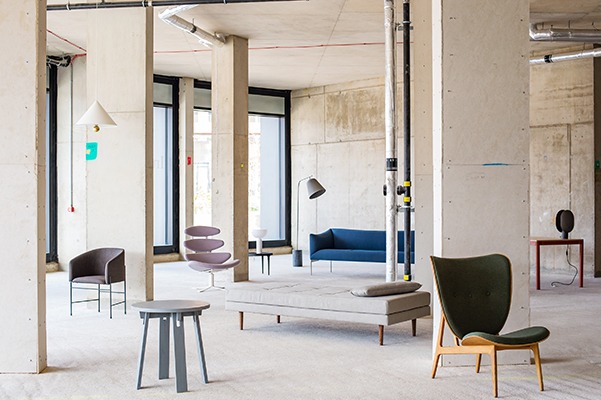 Designjunction has announced plans to move to London's South Bank for its eight edition, collaborating with Coin Street Community Builders (CSCB) – a local social enterprise which owns and manages Oxo Tower Wharf, Doon Street and the Riverside Walkway – to present the exhibition during London Design Festival in September.
Centrally located and surrounded by iconic London architecture, Oxo Tower Wharf attracts an estimated 25 million visitors each year and through the work of CSCB, the area has been transformed from a largely derelict, 13-acre site into a thriving mixed-use neighbourhood.
"Designjunction has always sought to identify architecturally stunning backdrops to present the best global design," comments Designjunction's Managing Director, Will Sorrell. "By working with CSCB, we're putting our brands in the centre of a thriving mixed use neighbourhood, whilst providing visitors with a unique show experience. We look forward to contributing to this exciting area."
Taking place on 20 – 23 September, the event will showcase hundreds of product launches, boutique pop-up shops and bespoke installations across three key exhibition spaces: Oxo Tower Wharf, Doon Street and Riverside Walkway, with brands on the line-up including VitrA, Icons of Denmark and LSA alongside emerging designers Emma Cerasulo, Studio Anansi, and Woven Form.
The Doon Street site will house 200 international design brands and pop-up shops, presenting furniture, lighting and accessories in dedicated zones across two floors, while Riverside Walkway is set to showcase a series of outdoor installation projects and Oxo Tower Wharf will host major brand activations, exhibitions and experiential events. Designjunction will also join 25 designer-maker stores, with the Oxo Tower Wharf already playing home to brands such as Innermost, Black + Blum and Bodo Sperlein.
Sophie Cain, Design Curator at Oxo Tower Wharf, concludes: "We're delighted to be collaborating with Designjunction for the London Design Festival this September. Last year we were proud to host a landmark project, and we're excited to be building on Oxo Tower Wharf's reputation for design excellence and extending this into the wider Coin Street area."