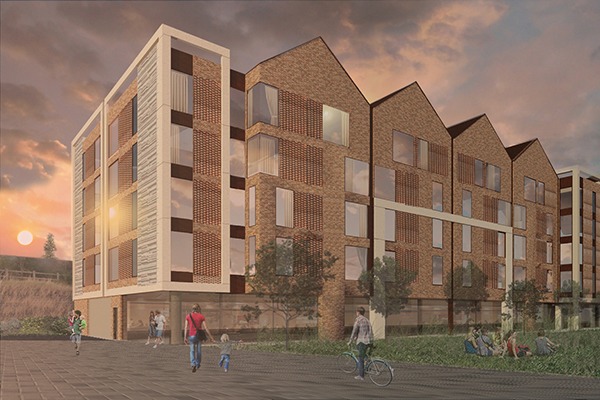 Holiday Inn Hotels & Resorts has announced that Dexter Moren Associates will design a 64-key extension to the Holiday Inn Oxford, with the studio also winning approval for a revision of the newbuild Orchard Road aparthotel in Cambridge.
The London-based studio was instructed by Box Consultants, on behalf of developer Lapithus Hotels Management UK, to work as architect on the four-storey Oxford hotel extension, which will also add a gym and a suite of meeting rooms. The firm's design utilises a soft yellow brick and a lighter stonework palette, alongside generous window proportions, to provide depth and visual interest to the façade and to link the scheme to the existing hotel.
Meanwhile, working for TLC Group, Dexter Moren Associates has revised an existing planning consent to improve the efficiency, quality and practicality of the 82-unit Orchard Road development in Cambridge. The site is located close to business parks and the Cambridge Science Park, providing a strong demand for longer stay units for business travellers and employees. Comprising studio, one-bed and two-bed apartments, the studio's design promotes a residential feel, sensitive to the surrounding area, with a rhythm of pitched roof gables to relate to the domestic context of Orchard Park.
Mark Wood, director at Dexter Moren Associates, comments: "Clients are increasingly approaching us to develop and enhance parts of their existing hotel portfolio. This provides an exciting balance in our work portfolio against our larger projects. This extension to the Oxford Holiday Inn, a popular local hotel, will provide high quality facilities within a contemporary extension that sits harmoniously within its setting. The Orchard Road, Cambridge project represents an important continuation for DMA within the fast expanding sector of aparthotels. Set within a fledgling residential community this long stay accommodation takes its design cues from domestic architecture in order to root it within its community. The choice of robust masonry materials takes influence from the beautiful city of Cambridge."