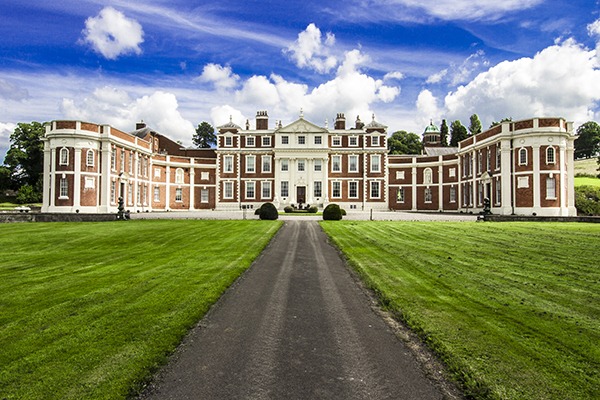 Hawkstone Hall, a Grade-I-listed 18th century stately mansion in Shropshire, has entered a fourth period of ownership in its 550-year history, following its acquirement by The Distinctly Hospitable Group.
Set to be completed by summer 2018, the 43,000ft2 Georgian property is undergoing a refurbishment that will reinstate a selection of its original features. Designer Kay Petrouis has been tasked with overseeing the project, with an aim to visually divulge its history while encompassing an English heritage colour palette throughout.
"Since completing on Hawkstone Hall we are delighted with the progress we have made in restoring one of only two Grade-I-listed buildings in Shropshire," comments Hannah Whiting, Group Development Director, The Distinctly Hospitable Group. "The gardens have proven to be a major project over the summer and we have thoroughly enjoyed uncovering some of the lost and hidden features, numerous pathways and a secret garden."
Arriving at the development via a mile-long gravel driveway, a double door entrance reveals a main hall with high-sculpted ceilings, rich draping, antique furniture and a double staircase. The building comprises 12 suites named after Jane Austen characters, a Gold Room theatre, ballroom, refectory and private chapel for wedding events.
Adjacent to the main building, a newer wing, built in the 1960s, will undergo a complete renovation to encompass a further 28 bedrooms. In each guestroom, a palette of tones will mimic that of the main hall, featuring hues of duck-egg blue and calamine pinks, while furnishings and deep mattresses will complement.
The property's grounds will also offer a backdrop for corporate events, music festivals, and yoga & fitness retreats. The 18th Century retreat stands amongst 88 acres of manicured lawns, with far-reaching gardens to explore Shropshire's countryside. Within its grounds, the estate features a rose garden, croquet lawn, ancient cemetery and over half a mile of footpaths.
Martin Hirst, Venues Director, adds: "We were thrilled when the change of use permission was granted in such a timely manner and we're currently in the process of working with architects to submit a sympathetic yet innovative proposal for the 1960s wing of the building. We are extremely proud to be playing such a significant part in the history of this magnificent Grade I listed building and we look forward to a very exciting future at Hawkstone Hall."