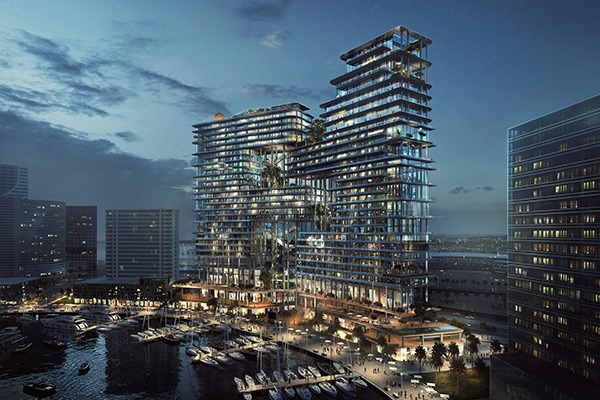 Dubai-based developer Omniyat has signed a long-term agreement with Dorchester Collection, bringing the hospitality brand to Dubai for the first time with a new development on the banks of Dubai Canal. The project will include a 5-star hotel and luxury residences – managed by Dorchester Collection – adding to the hotel portfolio of the Marasi district. 
"Omniyat is a strong key player in bespoke luxury lifestyle and hospitality development in the region and this carefully selected partnership with Dorchester Collection is an- other statement on how we differentiate ourselves," comments Mahdi Amjad, CEO and Executive Chairman of Omniyat. "We aim for authenticity through our projects that add to Dubai's skyline and we only partner with the world's most established brands that share our passion and excitement for creating unique, ultra-luxury developments. We want to fuel unforgettable experiences through our projects and we couldn't have found a more suitable partner than Dorchester Collection."
In addition to the new development, full details of which will be revealed in an upcoming gala event, Omniyat and Dorchester Collection will also join forces to bring their shared brand principles and values into other projects in the region.
Christopher Cowdray, CEO of Dorchester Collection, explains: "We are delighted to partner with Omniyat with its global reputation for outstanding design. This is our first hotel and residence complex in the Middle East and we look forward to bringing our distinct style of hospitality to this region."
Dorchester Collection owns and operates properties including 45 Park Lane in London, Coworth Park in Ascot, Le Meurice and Hôtel Plaza Athénée in Paris, as well as Hotel Principe di Savoia in Milan, Hotel Eden in Rome and The Beverly Hills Hotel and Hotel Bel-Air in Los Angeles.
With a development portfolio of over $6.2million, Omniyat has secured a number of partnerships in recent years, bringing global hotel brands such as The Langham and ME by Melia to the region. In September, the developer sold the penthouse at its One Palm development for AED 102 million, making it the most expensive apartment in Dubai.