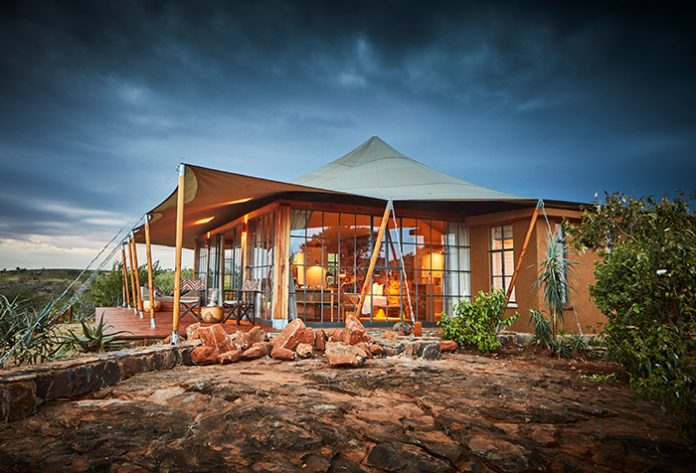 Elewana Collection has announced it will open Elewana Lodo Springs in June 2019, bringing its total number of luxurious camps, lodges and boutique beach hotels in Tanzania, Zanzibar and Kenya to 16. The new tented property will complement the existing Loisaba Tented Camp and Loisaba Star Beds located in Loisaba Conservancy, and underpins Elewana's dedication to conservation in Northern Kenya.
Designed by architects Chris Payne and Jan Allen with landscape architecture from Jo Silvester, Elewana Lodo Springs will offer an ultra-private experience with just eight guestrooms featuring expansive views across the landscape towards Mount Kenya. Each tent will also be assigned an Elewana Guest Ambassador, as well as a dedicated safari vehicle, driver and qualified field guide who will accompany guests for the duration of their stay.
"Elewana Lodo Springs is a different kind of bespoke safari experience – it has been created to speak to the discerning well-seasoned high-end traveller who has come to expect responsible conservation practices without forgoing luxury and privacy," says Karim Wissanji, CEO of Elewana Collection. "Beyond this, the opening of Elewana Lodo Springs is a testament to Elewana's commitment to sustainable conservation across East Africa."
The opening of Elewana Lodo Springs is a result of the success of the 56,000 acre Loisaba Conservancy, which was purchased by The Nature Conservancy in 2015. The purchase secured the land to ensure that the Conservancy delivers vital benefits and support for neighbouring communities, the wildlife and all Kenyans for the foreseeable future, achieving optimal standards of sustainable conservation. It also ensured Loisaba's role as a critical sanctuary and corridor for elephants and other wildlife long into the future, as well as providing refuge for one of Kenya's most stable lion populations and an abundance of other wildlife including Grevy's zebra, wild dogs, leopard and cheetah.
Matthew Brown, Africa Director for The Nature Conservancy, adds: "The vibrant grasslands of northern Kenya are home to elephant, zebra, giraffe, lions and local livestock herders. The Nature Conservancy, Elewana and Loisaba Conservancy have partnered to create Elewana Lodo Springs, the newest and most exciting tourism experience that will generate local jobs and help contribute to critical wildlife and habitat protection. Personally, I find it really exciting that every visitor will be contributing to global species conservation and local livelihoods."
Tom Silvester, CEO of Loisaba Conservancy, concludes: "Loisaba sits on a vital Elephant Corridor connecting the famous Laikipia Plateau, home to several critically endangered large Mammals and breath taking landscapes, to Kenya's Northern Rangelands. Tourism revenues form an integral part of protecting this globally significant landscape. We are delighted that our partnership with Elewana Collection has enabled us to invest in Lodo Springs where every guest who stays will contribute to securing Loisaba's future."