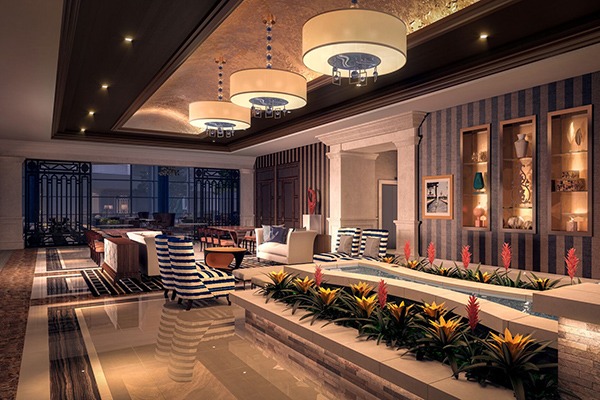 Interior designer Warren Sheets has revealed the core concept of his design for the upcoming 37-storey Fairmont Austin.
Paying homage to the neighbouring Palm Park and Waller Creek, the property will channel natural design elements and draw inspiration from the area's environment to create an organic continuity from exterior to interior.
"On a broader scope, I was looking at how important outdoor life is to Austin locals and to the state itself," comments Sheets. "Because the hotel was in a park, I brought the park into the hotel. All the interior elements down to the smallest details weave a cohesive narrative that honours this beautiful city and will serve to welcome its guests with its trademark hospitality."
Upon entering, guests are greeted by two 24ft high Oak trees flanking the reception desk, whilst the Park Lounge features a geometric, life-size topiary garden. Indigenous greenery and cultural references also appear throughout the hotel's interior. Guestrooms feature Austin's blend of cosmopolitan modernity and the American West, and aim to capture the atmosphere of the city.
Fairmont Austin is inspired by the region's Hill Country landscape, with the 400ft2 space and its nine-foot high ceilings defined by sleek lines and geometric shapes in the colours of Austin parks' terrain and skies. Hues of white, meridian blue, Versace copper and beige seek to cultivate a warm, comforting environment, with various natural materials and textures such as zebrawood and Cherry wood veneers underscoring the scheme. Details include cut and loop pile carpeting with 6" stripes of regatta blue and gossamer gold, and the bespoke draperies framing the floor-to-ceiling windows that offer views of the city skyline, the State Capitol and Lady Bird Lake.
In the bathrooms, a three-panel door inlaid with frosted glass leads to a bath with walk-in shower, separate water closet, and a custom designed vanity in a tobacco cerused oak finish and pearl white quart top with a backlit mirror.
Fairmont Austin is also set to include a range of in-room amenities including WiFi, a flat-screen HDTV, bedside USB and electrical device charging hub, dual line phones with individualised voicemail, personalised wall safe and photographs by local photographer John R. Rogers.