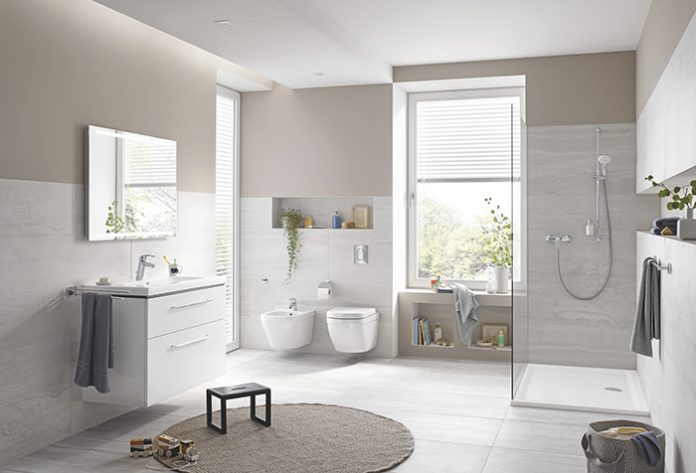 Grohe has revealed plans for a number of innovations at ISH 2019, the world's leading trade fair for the responsible use of water and energy in buildings. The brand will reinforce its philosophy Water. Intelligence. Enjoyment by bringing the element of water to the forefront of its new collections, while CEO Michael Rauterkus will also share his vision of how Grohe actively shapes the future of water, including digitisation and intelligent water management. 
In recent years, the German manufacturer has become a driving force in the digital transformation of the sanitary industry, even offering its own Internet of Things (IoT) products. The smart water controller Grohe Sense Guard has already arrived in the smart home, and will be a subject of discussion at the Intelligent Living Summit, an ISH panel session taking place on Wednesday 13th March. The summit will see Grohe partner with German companies Miele and Viessmann to explore how homes can support life in intelligent ways.
With the bathroom now considered an extended living space, Grohe will also present more bespoke concepts that help customers create their own personal spa. These include minimalist ceramic lines that match the brand's brassware products in both form and function, as well as the Colours collection – a range of taps and accessories in ten different colours and finishes that allow for greater customisation in the kitchen and bathroom.
Behind the wall, the new Grohe Rapido SmartBox provides installers, architects and planners with a number of solutions using just one flush-mounted unit. The system can be used universally for all of the brand's final assembly sets, regardless of whether they are a single-lever mixer, thermostat or SmartControl product, and features three outlets for a wider range of shower options and a tailored showering experience. Installation is easy thanks to inlets for hot and cold water that are connected from below, as well as subsequent adjustment options of up to six degrees and a minimum installation depth of only 75mm.
Also on display, the Grohe Blue water system will provide visitors with filtered and chilled water that is either sparkling, semi-sparkling or still, while Grohe Red will deliver kettle hot water directly from the tap. The SmartControl technology, which has already been successfully launched in the bathroom, will also make its way into the kitchen.
Grohe can be found in the Forum hall at Messe Frankfurt, where they will present a series of intelligent and sustainable solutions for the bathroom and kitchen across three themed environments.