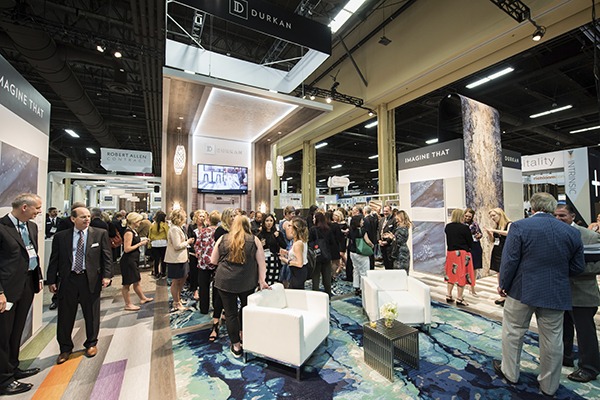 Registration is now open for the 2018 Hospitality Design Exposition and Conference (HD Expo). Thousands of designers, architects, purchasing agents, owners, operators, brand executives, and other hospitality design professionals will come together from 2 – 4 May at Las Vegas' Mandalay Bay to explore new products, attend a curated talks programme and network across various events.
Conference highlights include the show's signature Owners' Roundtable, putting attendees face-to-face with hotel owners, operators, and brand executives for intimate rotating table discussions; 30-minute conversations at the Meyer Davis-designed Social Hub at the centre of the exhibition hall; and the opening session, this year a rare dual public appearance from writer Simon Doonan and designer Jonathan Adler.
"Each year, we try to bring together the best of the best—from veterans to rising stars—to bring the pages of our magazine to life," said Stacy Shoemaker Rauen, Editor in Chief of Hospitality Design magazine. "And this year is no different. From experiential travel to new hybrid and restaurant concepts, and even a look at what our industry can learn from other design disciplines, we are bringing together an impressive group of tastemakers to discuss top-of-mind trends, lessons learned from standout projects, and doing business in the expanding world of hospitality."
The show floor will feature more than 850 international manufacturers offering a gallery of inventive furnishings, lighting, fabrics, wallcoverings, flooring, bath fixtures, accessories, artwork, and more, with many using HD Expo as a platform to debut new products.
At HD Expo 2017, 12,000 attendees marked HD Expo's largest recorded audience to date, with growth expected to continue in 2018. Exhibitor commitments are trending up for 2018, with nearly 700 brands already confirmed.
"HD Expo will welcome the biggest names as well as the most innovative emerging brands dominating the hospitality design space. The show continues to set the pace of our industry and be the connector between influencers, brands, and designers from across all segments," says Liz Somerville, group show director of Emerald Expositions. "In 2018, attendees will discover new pavilions and panel discussions bringing fresh content and new faces to the show floor. This includes brands dedicated to wellness and fitness; two of the fastest growing categories of the industry. HD Expo 2018 is set to once again be an incredible and valuable experience for our industry."