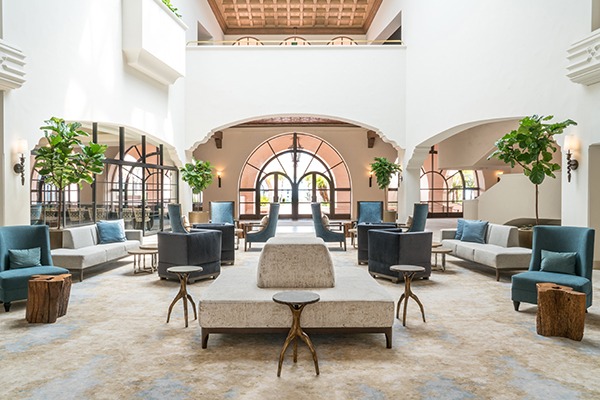 Hilton Santa Barbara Beachfront Resort has opened its doors following a complete renovation. Formerly known as The Fess Parker, A DoubleTree by Hilton Resort, the hotel will remain managed by Hilton and jointly owned by Park Hotels & Resorts, along with the Fess Parker family who continue their 30-year partnership with the Hilton brand.
Located within walking distance of downtown Santa Barbara, Hilton Santa Barbara continues the legacy established by the Fess Parker family while paying homage to the rich history and unique culture of the region. The hotel's 360 guestrooms have been remodelled with driftwood-inspired interiors, and feature palettes of ocean and sky-blue tones along with private balconies.
On the menu is locally-sourced California cuisine at The Roundhouse, while Rodney's Grill plates up sustainable seafood and naturally raised meats. The Fess Parker Wine Tasting Room also offers a self-service wine dispensing system, and complements bistro-style venue The Set, whilst grab n' go options Java Del Mar and Terraza Del Mar complete the F&B offer.
The property further offers over 40,000ft² of meeting and events space, including the 600-cover Grand Ball Room & Foyer, and the semi-enclosed Plaza Del Sol – boasting 180-degree views of the surrounding ocean and a connecting rotunda. Elsewhere, Spa del Mar encompasses a heated outdoor pool, whirlpool and several treatment rooms, which are open year-round along with a 24-hour fitness centre and on-site tennis courts. Other activities include local experiences such as a Bike, Bites + Brews tour, horseback riding tours and wine tasting.
"From its unbeatable location to legacy of exceptional service, Hilton Santa Barbara Beachfront Resort represents everything today's travellers value," comments Joe Berger, Executive Vice President & President, Americas, Hilton. "With the renovations and repositioning of this resort, we are poised to redefine the guest experience for visitors to this top American destination."
Eli and Ashley Parker, son and daughter of Fess Parker, add: "We look forward to this next chapter for the property and to continuing our long-standing partnership with Hilton. The resort may have a new look and a new name, but will continue to provide the same first-class visitor experience that has made both locals and travelers feel at home for several decades."