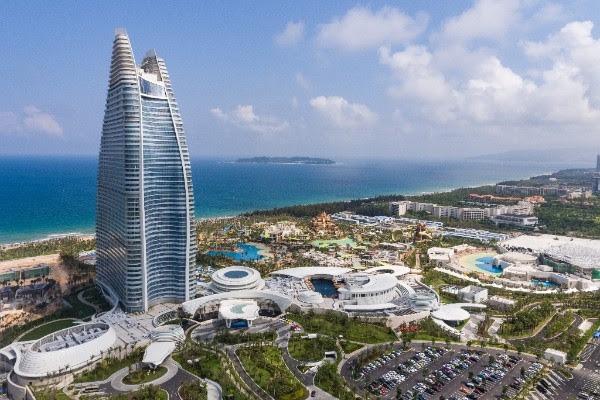 Global architecture firm HOK have partnered with Atlantis Resorts – a subsidiary of Kerzner International – to design Atlantis Sanya, a 48-storey building on Hainan Island that marks the operator's entry into China.
HOK's design comprises 1,314 guestrooms with views of the South China Sea, as well as 21 restaurants, a water park, educational exhibits and an open air aquarium. A 78-foot-high lantern caps the tower, adding to the waved pattern of the curtain wall and balcony rails that appear to send ripples up the building. The design team also incorporated the signature Atlantis Bridge Suite into the penthouse level of the tower, reinterpreting the Atlantis brand's classic tradition in a contemporary fashion.
"Inspired by waves crashing against the island's rocky coast, we designed the Atlantis tower to rise in two fin-like forms that are joined to create a dramatic massing," comments Greg Cranford, Senior Principal of Design at HOK. "We conceived the building podium, including the main lobby rotunda, as a series of spiralling vortexes of water streaming away from the towers."
HOK designed the porte cochere and lobby reception area on an axis with views of the water park and ocean, pushing back the building's core to the arrival side to introduce a subtle bend and allow for more ocean-facing guestrooms. The podium also includes more than 320,000ft² of retail, restaurant and conference space.
Serge Zaalof, COO, Atlantis Resorts & Residences, adds: "We are delighted to be welcoming Atlantis Sanya into our family as not only the first Atlantis resort in China, but also a proud first step into the Asia Pacific region. Atlantis Sanya marks the next generation of Atlantis resorts, offering unrivalled family entertainment, world-class culinary choice and unforgettable guest experiences."
HOK's current and recent projects include MGM Grand Sanya, Topwin Center and InterContinental Beijing, Le Meridien Hangzhou and St. Regis Hotel & Residences, Belgrade.