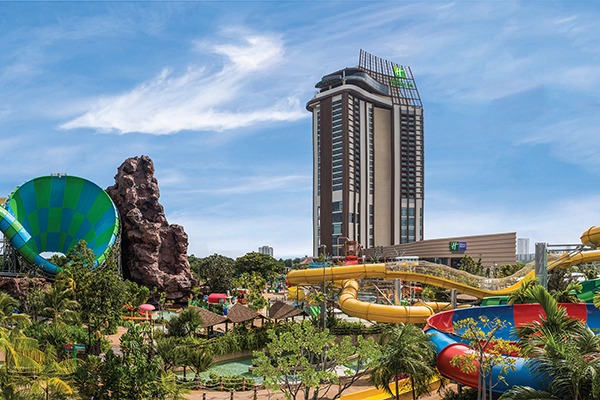 Holiday Inn has expanded its portfolio in Asia with the opening of a 300-key water park property in Hua Hin, the first resort town in Thailand billed by King Rama VI.
Located 2.5 hours from Bangkok, Holiday Inn Vana Nava Hua Hin features a series of inter-connecting rooms and KidSuites, as well as a 26th floor infinity pool, Tea Tree spa, and 24-hour fitness centre. Part of a larger mixed-use development, the project is also set to feature premium residences, which are expected to launch later this year.
Dining options include the all-day Plamong Restaurant, a casual pool bar, and Vana Nava Sky Bar, Restaurant & Observation Deck, which affords panoramic views across the Gulf. Designed by Bangkok-based consultant Ashley Sutton, who's notable projects include Maggie Choo's and Iron Fairies in Bangkok and Ophelia in Hong Kong, the destination also features a glass-bottomed deck 110 metres above ground. Elsewhere, 950m2 of event space includes five function rooms and one of the largest ballrooms in Hua Hin.
Vana Nava Hua Hin Water Jungle – the waterpark adjacent to the property – comprises 20 slides and attractions and is surrounded by over 200,000 trees that form the concept of a water jungle. Linking all components of the mixed-use site, RFID technology is used to unlock hotel guestrooms, access the waterpark and pay for food and entertainment within the compound.
"We are delighted to welcome guests to Holiday Inn Vana Nava Hua Hin," comments Franck Rodriguez, General Manager of Holiday Inn Vana Nava Hua Hin. "With our unique setting at Vana Nava Hua Hin Water Jungle and extensive range of facilities, the resort is not just a place to stay – it is a destination in its own right."