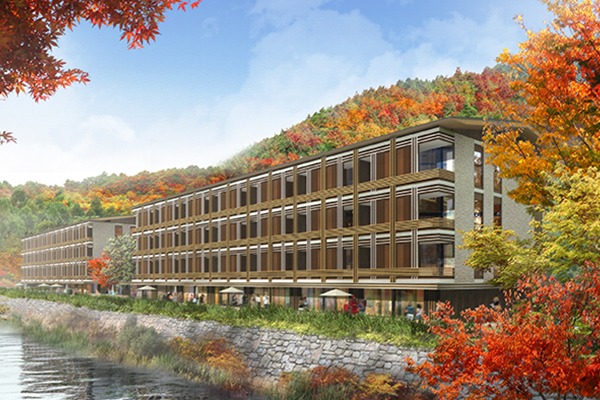 IHGA Hotels Group Japan, the joint venture between InterContinental Hotels Group and ANA, has signed an agreement with GHS K.K. and Daiwa House Industry to launch IHG's boutique brand Hotel Indigo in Japan.
Scheduled to open in 2019, Hotel Indigo Hakone Gora is built around an authentic local neighbourhood story concept, and reflects the rich culture and history of Gora in its architecture and design, artwork and restaurant menus.
Echoing the region's famous pastel-coloured hot springs, which first opened in Hakone approximately 1,200 years ago, the property's 100 guestrooms and suites each feature an open-air Onsen bathtub, either on their balcony or with a view of the surrounding mountains.
Elsewhere, additional facilities include a bar, health club, spa treatment rooms and in-house restaurant Neighbourhood Café, while nearby Gora terminus and Miyaginobashi bus station provide travellers with access to the Hakone Tozan transport systems.
"We are very excited to bring Hotel Indigo to Japan," comments Hans Heijligers, Chief Executive Officer, IHG ANA Hotels Group Japan. "One of Japan's leading hot spring destinations, Hakone really is the perfect first location: with its stunning beauty around scenic Lake Ashi and its captivating history and museums, it exudes a local story which is what Hotel Indigo is all about. Just 90 minutes from the heart of Tokyo, Hotel Indigo Hakone Gora will add a new dimension to the neighbourhood that will resonate with Japanese and international travellers alike."
Satoru Kondo, President of GHS K.K, which has leased the property from Daiwa House and engaged IHG ANA to manage the hotel, adds: "More and more visitors are exploring Japan, attracted by the country's wealth of tourism assets. One of travellers' favourites is the hot spring, and we saw an opportunity for a new hot spring accommodation in Hakone Gora, which also has a reputation for breathtaking nature, history and culture. We feel Hotel Indigo is the perfect match, with its commitment to giving guests a genuine, local experience. We are proud to team up with IHG ANA to host Japan's first Hotel Indigo, and our confidence is underscored by the success and close relationship we have built together with IHG ANA at its other hotel locations throughout Japan, such as ANA Crown Plaza Osaka."
Intercontinental Hotel Group currently operates 80 Hotel Indigo properties worldwide, with an additional 83 properties in the pipeline, adding to its 21,505 rooms already opened and signed. IHG ANA Hotels Group Japan also has 33 hotels operating under five brands in Japan, including InterContinental Hotels & Resorts, Crowne Plaza, Holiday Inn, Holiday Inn Resort and ANA Hotels International.