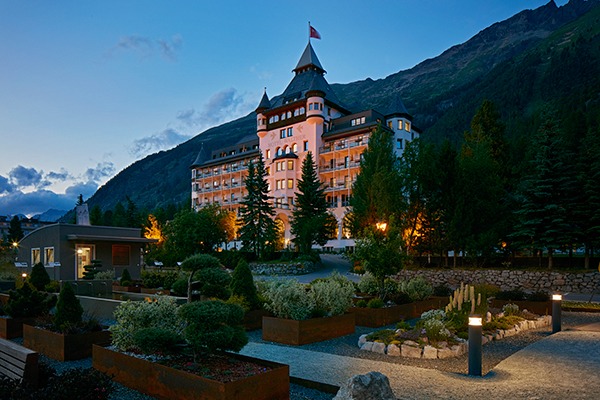 In celebration of its 110th anniversary, Hotel Walther has commissioned Zürich-based designer Virginia Maissen to redesign the common spaces, featuring special art installations by Rolf Sachs and Sandro Fabbri. Built during the Belle-Époque, the heritage hotel will unveil its new interiors in summer 2017 showcasing both modern and traditional aesthetics.
The entry hall, reception area, bar/fumoir, and dining hall have been redesigned, with Maissen selected due to her understanding of historic architecture, tradition, and modernity. Within these spaces, antique decorations have been reinterpreted to reflect the hotel's authentic framework, including original ceilings and richly ornamented archways that have been restored and complemented with mosaic additions.
The newly designed reception area includes a large marble cube, carved from a 20.5 tonne piece by Swiss sculptor and architect Veit Rausch, whilst specially designed wall tapestries, curtains, and carpets have also been added to compliment the furnishings with warm oak tones.
Further, the hotel has commissioned a site-specific artwork for the new bar in the form of a lighting installation titled splendurir, which translates to 'shining, pouring light' in Romansch, by artist Rolf Sachs. Splendurir is made of 70 hanging lights within buckets and milk canisters, reflecting both Upper Engadine mountain culture and Sachs's inquisitive aesthetic. Selected paintings by Italian artist Sandro Fabbri also adorn the walls, with their unconventional styles ranging from calligraphy to illustration.
Set in the Swiss Alps near St. Moritz, the surrounding Pontresina is a mountain village offering recreational and leisure activities for all seasons, and known for its traditional Engadine stone houses decorated with sgraffito.
Hotel Walther is a third-generation family-run business, currently headed by Anne-Rose and Thomas Walther. As a member of Relais & Châteaux, the hotel comprises four restaurants – located both in the hotel itself and the family-owned neighbouring property, Hotel Steinbock – and spacious spa and wellness facilities. Over the past twenty years, the Walther's have invested 35 million Swiss-francs in renewing the hotel to prepare the 110 year-old building for a long future in hospitality.