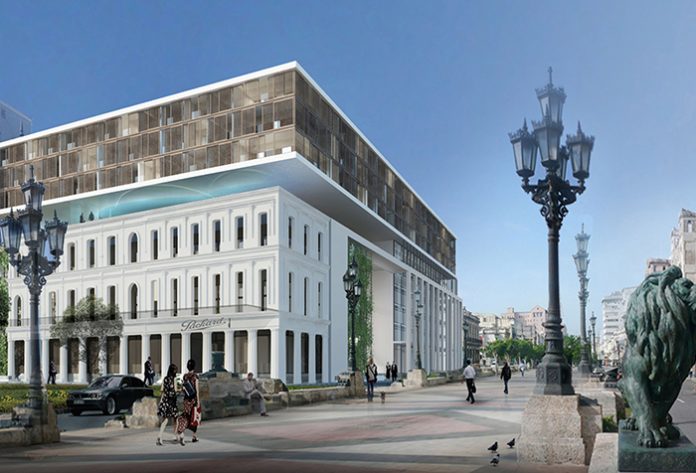 Iberostar Hotels & Resorts has announced the opening date of Iberostar Grand Packard, its first property in the heart of Old Havana. Slated for Q4 of 2018, the hotel combines historic architecture with modern innovation and luxury, restoring the building to its former splendour.
Coinciding with the 500th anniversary of the founding of Havana, and marking 25 years of its presence on the island, Iberostar has paid tribute to the colonial history of the capital and its development throughout the restoration. Preserving the essence of Paseo del Prado – an iconic avenue in Old Havana – the hotel rises with a modern upper structure, affording views of the Bay of Havana and the Castle of the Three Kings of Morro.
Once a place that welcomed illustrious personalities such as Pablo Neruda and Marlon Brando, Iberostar Grand Packard will comprise 321 guestrooms and a wide array of F&B experiences including three bars and six restaurants, while an event schedule is set to offer musical performances and live dance shows by well-known local artists.
"Cuba has always been one of our priority destinations and one of the favorites of our clients internationally,"comments Aurelio Vázquez, COO of the Iberostar Group. "The Iberostar Grand Packard represents not only our commitment to Cuba and respect for its past and present, but also our commitment to excellence, quality and thecustomer experience."
Since its first hotel in 1993, Iberostar has grown its portfolio to 20 properties, and by the end of 2018 will have launched eight new properties in Cuba – reaffirming its commitment to the country with a presence in Santiago de Cuba, Holguín and Havana. The opening of Iberostar Grand Packard could also help the hotel group achieve its objective of reaching 12,000 keys on the island by 2020.