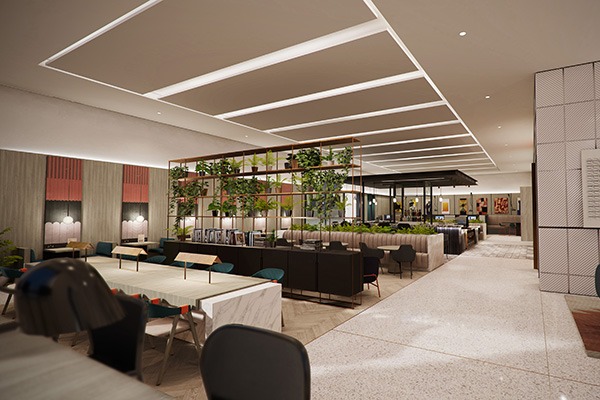 IHG (InterContinental Hotels Group) has unveiled a series of new design concepts for Crowne Plaza Hotels & Resorts to feature across its European hotels.
Showcased at International Hotel Investment Forum 2018 (IHIF) the designs are part of a global Crowne Plaza programme to attract business travellers. Benefiting from a $200 million investment in the Americas over three years, where the new concepts have already been trialled, these reimagined designs will next seek to meet the needs of how travellers want to work, meet and socialise in hotels.
In Europe, IHG has collaborated with Conran and Partners to deliver the new settings and create more flexible environments. Additional focus on enhanced service, food and technology has also been considered.
Mike Greenup, Vice President of Brand Management for Europe, IHG, comments: "We're investing in Crowne Plaza to make it the first choice for modern business travellers and more profitable for hotel owners. We've partnered closely with our owners throughout this project and every element of the new design has been shaped with return on investment in mind. Working with leading design studio Conran and Partners we've created communal workspaces where guests can switch effortlessly between work and socialising. We know that guests are looking for spaces that are more flexible, on-demand and collaborative, and our new design delivers this, while putting every square metre of the hotel to work to generate revenue. Following the success of the new designs in the Americas, we're thrilled to be bringing this to life in Europe – this is an exciting new chapter for one of the world's fastest growing hotel brands."
Central to the new concepts are the Plaza WorkSpaces – a flexible collection of working areas modelled on public squares – where guests and local businesses can switch between work and downtime. Co-working spaces with huddle spots and built-in touch screens will sit alongside food and drink options, with the aim of increasing dwell times, F&B revenue and generating non-guest spend.
Simon Kincaid, Director, Conran and Partners, adds: "We have been working closely with IHG over the last year to understand past, present and future guest profiles for Crowne Plaza, so we can define and exceed their expectations. The needs of modern business travellers are liquid and demanding. Travellers expect seamless service and want an experience that parallels the ease and flexibility of brands such as Uber or Apple, progressive co-working environments, members' clubs and immersive retail experiences."
Guestrooms have also been reimagined. 'WorkLife Rooms' – an environment designed with three distinct zones to support work, downtime and sleep – will feature materials that reduce noise disturbance, and lighting settings to enhance the sleep experience. Elsewhere, informal meeting areas have also been transformed. 'The Forum' is a dynamic bookable event and co-working space with a 'Spanish Steps'-style layout, whilst The Studio is an on-demand space that can be used for collaborative workshops by day and private dining by night.
IHG is partnering with owners on three Flagship Crowne Plaza hotels to roll-out the new designs from later this year: Crowne Plaza London – Heathrow, Crowne Plaza Paris – République and Crowne Plaza Hamburg – City Alster.