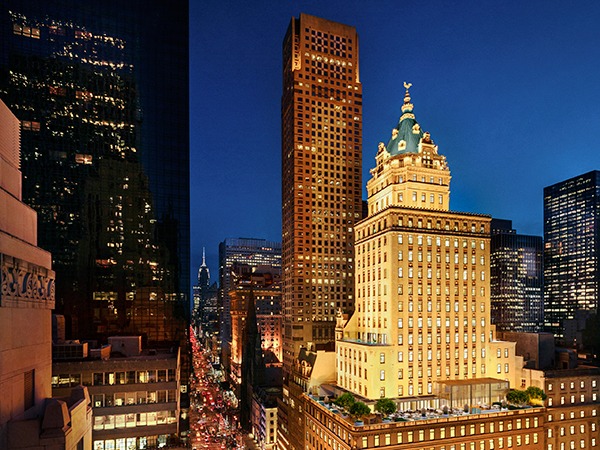 Jean-Michel Gathy has been commissioned to design America's first urban Aman Resort, Aman New York, in the city's landmark Crown Building.
Located at Fifth Avenue and 57th Street, overlooking Central Park, Aman New York will occupy one of the Big Apple's most architecturally significant buildings. Built in 1921, 730 Fifth Avenue will undergo an extensive transformation, comprised of 83 guestrooms and suites, three social dining venues, a spa, and an exclusive collection of 20 private homes representing the first urban Aman Residences – with Gathy contracted to custom design furnishings and interiors for each residence.
"It is truly an honour to work with such a revered piece of New York's architectural history and play a role in ushering in this exciting new chapter in the Crown Building's legacy," comments Jean-Michel Gathy, Principal Designer of Denniston. "The design of Aman New York will reflect the brand's commitment to creating luxurious havens of space and seclusion, while paying homage to the building's stately architecture and momentous history."
The property's guestrooms begin at 750ft2, and feature a functioning fireplace – a rarity for New York. Gathy will utilise nuanced hues and innovative lighting to create a soothing and undisturbed sanctuary, while incorporating a unique pivoting door for modern ambience, integrating contemporary fixtures and furnishings of the bathroom when opened. However, the five-storey, 14,000ft2 park view penthouse – the Crown Penthouse – will be the hotel's pièce de résistance, nestled into the iconic building's ornamental gilded crown.
With water features evident in all of Gathy's designs, the centrepiece of the elevated three-storey, 22,000ft2 Aman spa will be a 25-metre indoor swimming pool – bordered by alcoves of double daybeds and fire pits. Two spa houses add to the holistic spa experience with a double treatment room, sauna and steam rooms complemented by hot and cold plunge pools, and an outdoor terrace with cabana, daybed and fireplace.
Elsewhere, Aman New York's 10th-floor double-height Sky Lobby is adorned with subtle Asian influences in tribute to Aman's roots, and plays host to a stylish Piano Bar. On the same level, a Garden Terrace features a Cigar Bar and year-round dining as well as panoramic views of Central Park. Meanwhile, two restaurants, a Wine Library and a subterranean Jazz Club complete the property's signature elements.
Vladislav Doronin, Chairman and CEO of Aman, adds: "It's with great pleasure that we introduce Jean-Michel's transcendent design and pioneering vision in restoring one of Manhattan's most storied buildings back to its original splendour. A long-time Aman collaborator, Jean-Michel has redefined hospitality with his trailblazing designs.  There's no doubt that Aman New York will be his crowning achievement."
As Principal Designer of Denniston, Gathy has specialised in ultra-luxury hospitality design, interiors and landscape for over 30 years, where he has worked on Aman resorts including Amanyara in Turks and Caicos; Amanwana on the island of Moyo in Indonesia; Aman Sveti Stefan, an island which once acted as a fortified village in Montenegro; and Aman Venice, where his designs all feature a unique signature, focusing on the theme of romance and incorporating water features alongside cultural elements and local traditions.