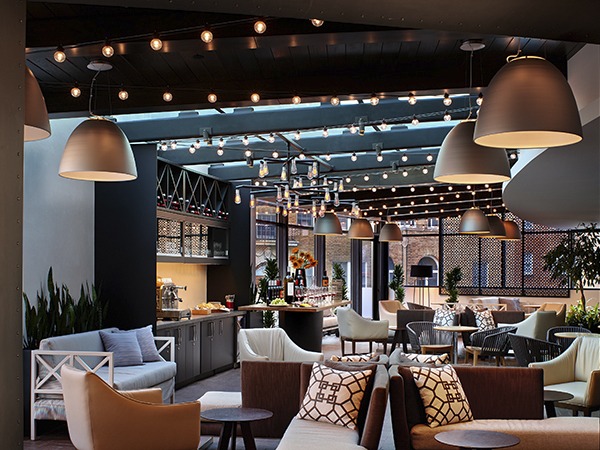 International interior design firm, Dawson Design Associates, has designed a provoking and memorable space for Kansas City Hotel Sorella Country Club Plaza.
Exuding the luxury of a Mediterranean villa, the hotel displays a fusion of old and new design, taking a cosmopolitan approach to the district inspired by Sevillian architecture. Hotel Sorella is positioned as the precocious sibling to the Valencia Group's Hotel Valencia brand, and offers a chic, more modern, unique approach to Kansas City.
Dawson Design Associates and their artistic studio approached the design of Hotel Sorella by creating a story and narrative for Sorella, told through a space that is classic and timeless, with rich history. The design goal was to visually engage every guest, creating an experience and interaction with the hotel that is intimate and personal.
"As a collaborative design team, we strive to push beyond the ordinary to reach the extraordinary," explained Andrea Sheehan, principal and art director at DDA. "Our vision is to create an experience that provokes strong emotions and lasting memories. Our goal is to open people's eyes and minds to discovering the surprise and delight of a unique hotel experience. Our interiors are our canvas. The guests, our audience."
As guests enter the dramatic lobby, they will experience a contemporary modern twist of blown Venetian glass chandeliers, intricate custom marble tile mosaics inset into white marble floors, hand carved elaborate wood panelling and Renaissance inspired paintings. Guestrooms continue the story of the exclusive hotel and its timeless sense of refined style. The spacious rooms are a sanctuary from the bustling plaza, with rich hardwoods transitioning from entry to the bed. Quiet shades of blue, white and charcoal surround the dramatic headboard tapestry.
The sublime white on white bathrooms of Carrera marble, accented by sleek mirrored stainless steel take backseat to the extravagantly oversized walk-in shower, with rainforest showerhead.
The vision for the rooftop area is one that is inspired by the hill towns of Italy, boasting views from above. The rooftop pool is accented with enticing lighting, cabanas and fire pits. It becomes the fountain that you would find in a Mediterranean courtyard, while keeping in theme with the fountains that surround Kansas City.
Doyle Graham Jr., president of Valencia Group, concluded: "We are hoteliers, but we are also story tellers. Valencia Group builds hotels rich with character and design. Hotel Sorella Country Club Plaza will tell its story through the Mediterranean – inspired art that will adorn this hotel. We look forward to our guests experiencing all that that Dawson Design Associates is delivering for our newest property."
www.hotelsorella-countryclubplaza.com