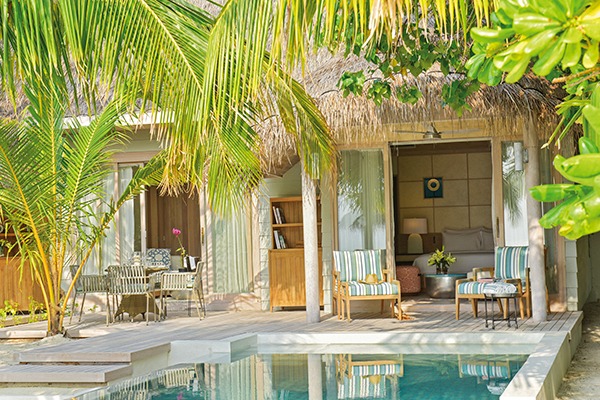 Inge Moore and her London-based Muza Lab design team have reimagined Kanuhura, an island retreat in the atolls of the Maldives. Redesigning every existing area and introducing new spaces, including larger guestrooms and fresh F&B outlets, Moore drew inspiration from elements such as local Boduberu performers and the surrounding natural landscape.
Channelling a bohemian spirit, the extensive redesign instils areas including the entrance, spa, restaurants and bars, with new ideas and visual motifs. Guestrooms and suites have also been reinterpreted, with several formats now featuring an infinity pool that extends directly over the sea, whilst the beachfront palm and shell houses benefit from an extension that creates a lobby offering uninterrupted ocean views.
Elsewhere, a new arrival experience boasts a monochrome palette, contrasting with the soft ocean colours, whilst the addition of organic forms and natural materials throughout brings a thoughtful local touch.
"We found inspiration in the legends, culture and natural world of the islands – their stories, colours and sculptural forms," explains Moore. "By bringing these influences into the experience of Kanuhura, we have created a sense of free-spirited timelessness and wellbeing where guests can escape from their normal lives and find a place to create their own special memories with family and friends."