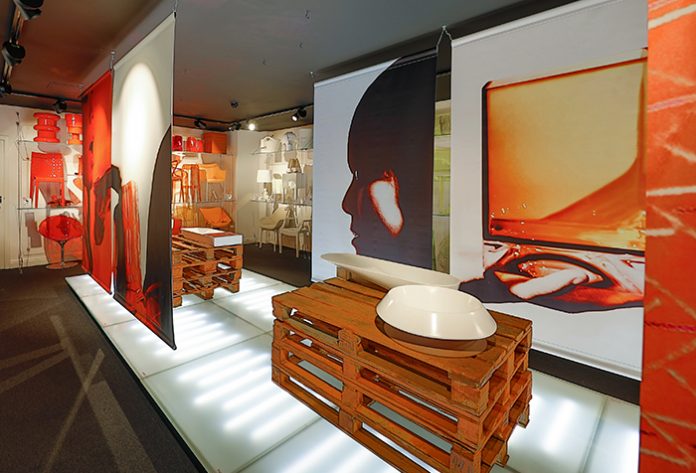 Laufen has unveiled its latest Kartell by Laufen project during London Design Festival, creating an artistic museum-like installation at the Kartell flagship store in Chelsea.
Signed by designers Ludovica + Roberto Palomba, the washbasin installation was characterised by an east-meets-west theme and combined innovation with thoughtful research. The showroom was divided into two main display areas: the first a luminous raised platform hosting the concept inspired by the iconic Chinese 'dim sum' tableware, objects with very free and playful forms utilised to set the large table. The pieces took shape through the use of Saphirkeramik, a ceramic that permits the production of extremely thin walls with very small radii and smooth surfaces.
Starting with the colours of food and the objects that encourage shared relations on the table, Ludovica + Roberto Palomba presented a new concept study on shapes: forms that ranged from rounded profiles to more rigorous, squared shapes, set apart by shades of red, green and brown that offered unique shadows and contrasts.
The space over the raised platform was separated by fabric panels in an orange hue from the palette of Le Corbusier – a tribute to the tone that represents the birth of the entire Kartell by Laufen project.
Elsewhere, a second area offered visitors an immersion into the Kartell by Laufen bathroom universe, showcasing the freestanding washbasin, bathtub with oval shape and accessories in shades of emerald green and powder pink. Also on display was a range of taps and fittings, which are available in several finishes to meet differing taste requirements.