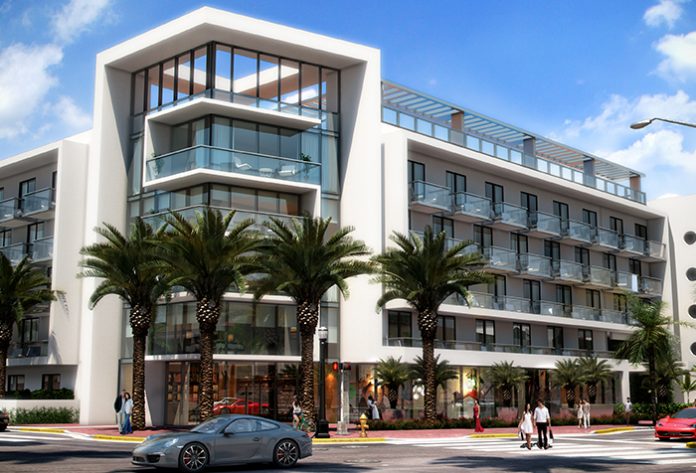 Kimpton Angler's Hotel South Beach has unveiled its redesign, which includes the addition a new 85-key wing. Nestled in an oceanfront plot on Washington Avenue, close to Miami's Art Deco district, the hotel has more than doubled its inventory to 132 guestrooms, while several new architectural spaces have also been added in the process.
Designed by San Francisco-based studio Nicole Hollis and Kimpton's Global SVP of Design, Ave Bradley, the re-imagined property draws inspiration from Miami's rich past – stemming from its 1930s heyday as a private haven for true anglers – and celebrates the city as a place of poignant contrast.
Experimenting with light and dark, Kimpton Angler's mood-setting elements tie together the destination's origins, citrus and tobacco agricultural heritage, and early railroad and sea-faring beginnings as a trade and cultural exchange hub with the Caribbean.
Brought to life via a carefully curated collection of design features, fixtures, materials and works of art presented in deliberate contrast to one another, the hotel fashions such contrast using textured walls, lava rock coffee tables and tobacco-coloured accents alongside bright hues of sun and citrus across its tile flooring and furnishings.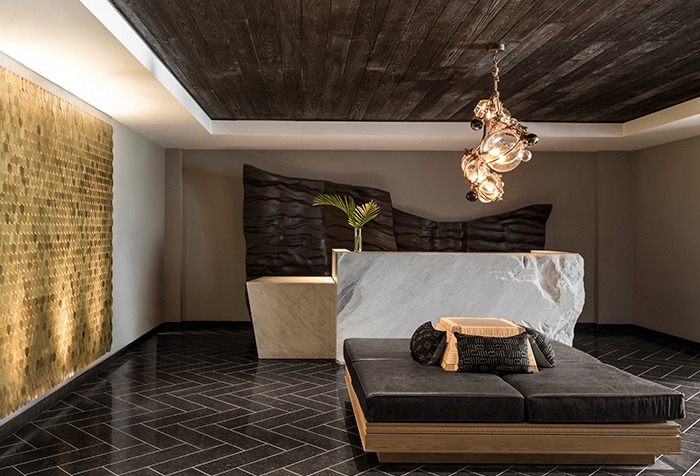 The story of high contrast begins upon arrival, with a black and white tile floor laid in a three-dimensional geometric pattern to guide guests into the hotel lobby. Refined and raw materials are also employed throughout; furnishings and finishes telling the tale of Miami's rich trade and agricultural history of citrus fields, railroads and shipwrecks.
Dark and natural finishes take centrestage in the lobby through the hand-woven rope drapery by Sally England, while the Paiellette Brass Accent Wall by Devon Brady of Livework Studios moves its fish scale-like panels in the breeze. Equally striking is the sculptural glass bubble and rope chandelier, custom-made by Lindsey Adelman to create a focal point from above, and a carved wood sculpture by John Houshmand that provides an abstract portrayal of a giant banyan tree.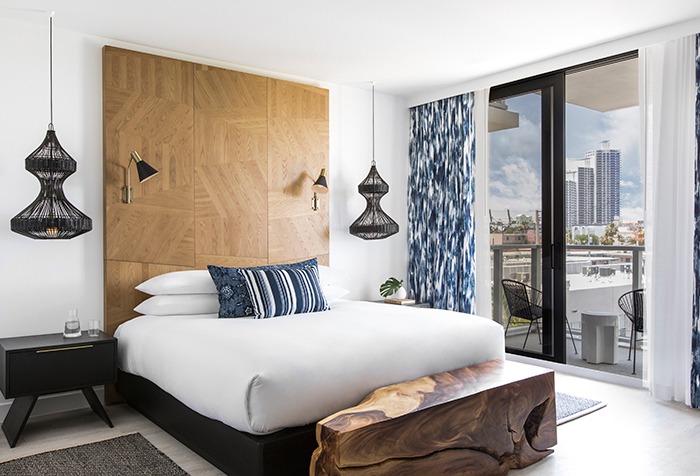 Made up of one-, two- and three-story studios, lofts, suites, villas, spa villas and poolside bungalows, Kimpton Angler's guestrooms are a study of air and light, and present a stark transition to the lobby's darker tones and textures.
Headboards made of inlaid wood paneling extend up to the ceiling, while cobalt is the accent colour in patterns and finishes amid a neutral backdrop. Natural elements featured throughout, from the wicker treatment used for both the pendant bedside lights and lounge chair, to the oversized work desk with its tree trunk-shaped leg, create a beach-like mood that depicts Miami's appeal of sun and sand.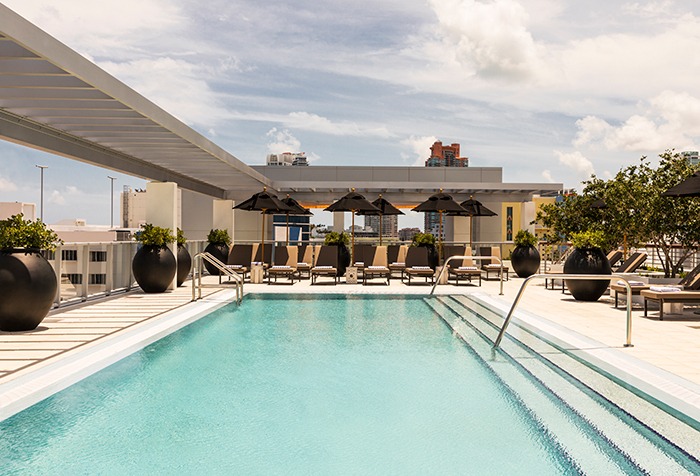 Sitting atop Kimpton Angler's new wing on the 6th floor is an expansive rooftop pool deck offering panoramic views of South Beach, the Miami Skyline and the ocean. The new rooftop pool and sun deck provide a sophisticated space for lounging and sunbathing, and feature large handmade clay planters, rattan loungers and wooden stools.
The hotel's meeting and events spaces, meanwhile, total 19,000ft² and can accommodate banquets and receptions for up to 650 guests. The Gallery, a pre-function area and meeting room corridor, features hanging metallic tapestry by Sausalito-based art consultant Julie Coyle, which sits above a plush sofa topped by a custom black ring pendant light and embellished with natural faceted raw crystals.
Elsewhere, The Anchor meeting room encompasses textured plaster walls, an all-wood floor and large folding doors, while The Terrace is an open-air courtyard featuring a string of lights crafted from braided black rope and over-sized bulbs that are draped along beams. Stairs lead guests from the venue to The Deck, a palm tree-lined outdoor space located above the meeting room that provides planners with a blank canvas for creating bespoke event backdrops and themes.