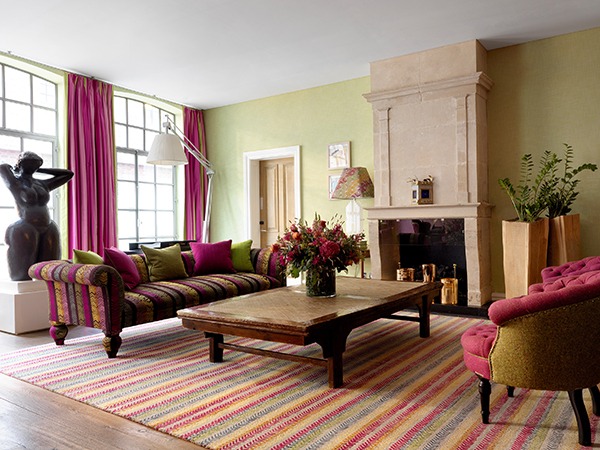 Wilton Carpets and Kit Kemp have partnered to create a new collection of woven wool-rich carpets for the hospitality market.
Spearheaded by Damian Roscoe, Head of Creative at Wilton Carpets, and Kit Kemp, the creative design mind behind Firmdale Hotels, the collection comprises nine designs and draws inspiration from folklore, architecture and botanical motifs to create patterns that work in both a traditional and modern interior.
"We have been able to create subtle effects and graduations of colour to give the carpets a unique feel, similar to the finish of hand blocked fabric," comments Kit Kemp, Design Director of Firmdale Hotels. "The new loom at Wilton has made my ideas a possibility and with their design input, a joyful reality. Colour makes you feel happy and gives a contemporary buzz to this collection. I feel we achieved it and I'm excited to see it being used."
Designs from the collection include Squiggle, a linear geometric pattern with inversed colours of off-white combinations; Batik, which references hand-blocked fabrics through subtle effects; and Flower and Berry, a botanical design available in five colourways, featuring red on off-white, off-white on blue and off-white on pea green.
Damian Roscoe adds: "We're incredibly proud of the Kit Kemp for Wilton Carpets Collection as it represents just what is achievable when two creative forces collaborate. We've worked closely with Kit to make sure her vision is reproduced with the attention-to-detail for which we are famed."
Wilton Carpets has weaved carpets for nearly four hundred years, and has enabled new techniques to be realised across the series using a combination of old narrow looms and high-speed loom technology.