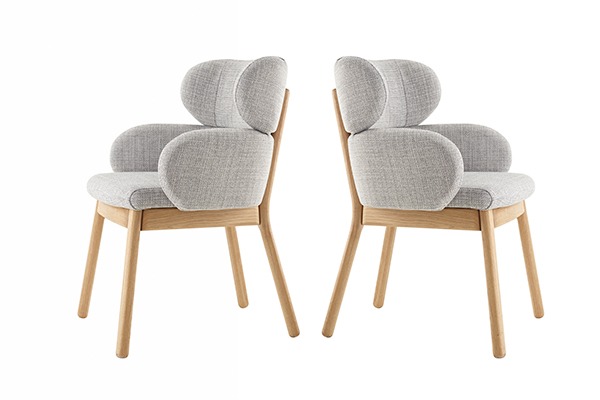 British designer and manufacturer Knightsbridge Furniture has unveiled its Dizzi range at Sleep – Europe's hotel design, development and architecture show – held at the Business Design Centre on 21-22 November.
Designed by Alys Bryan, an upholstery specialist with ten years' experience in the hospitality sector, the soft furnishing range comprises a compact lounge chair and coordinating upright chairs. Through a process of thoughtful material selection, combined with lean manufacturing principles, Bryan's signature style yields pieces that mix mid-century and modern design.
Dizzi's upholstery curves merge comfort with minimal form, while its wood frames create shadow lines with unique radiused frame joints and double-top stitching adds detail. The compact footprint of the Dizzi Lounge Chair also makes it a versatile piece for the hotel guestroom, lounge and bar, as well as a modern breakout space.
Its accompanying upright chair can be used for dining venues, with deliberate consideration of the arm height and positioning to allow the chair to sit neatly under a table. With an extensive choice of fabric and timber finishes available, including customers-own material, Dizzi's design and style lends itself to a variety of interior schemes.
Celebrating the visual impact of timber and Knightsbridge's manufacturing capabilities, the collection marks the brands expansion into the world of contract furniture for high-wear environments, including hotels and restaurants, where pieces will exude both style and comfort.