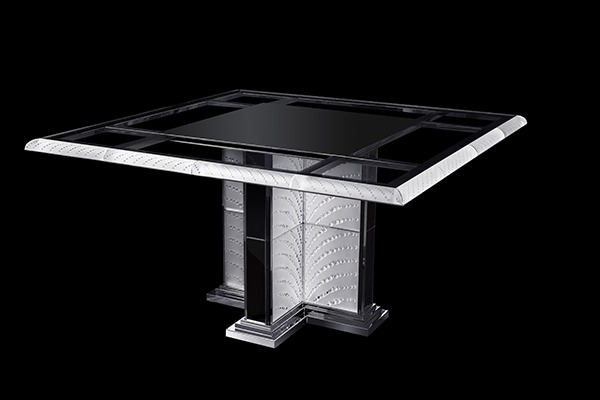 Lalique has collaborated with Pierre-Yves Rochon to create the Signature collection, a series of furniture and lighting that channels the French designer's quest for precise proportions – evident throughout his work for The Ritz, Waldorf Astoria and the Savoy.
"With the Signature collection, I wanted to write a new story in which metal sublimates the transparency, purity and brilliance of crystal," comments Pierre-Yves Rochon. "The Coutard, Vibration, Causeuses, Roses and Soudan pieces were born from the quest for the most beautiful aesthetic effect, the search for perfect proportions and the attention to every detail. Marked by the precision and the elegance of metal, the designs give crystal the freedom to blend in interior architecture and furniture design in a new manner. I am honoured to perpetuate René Lalique's work, associating crystal and metal in my own turn."
Comprising a desk, chairs and tables in square and rectangular models, the collection's Coutard models feature clear crystal, bright nickel and white glass, with the chairs available in silk and bronze lacquered wood, leather and black lacquered wood or leather and bright nickel lacquered wood.
The Soudan and Roses pedestal tables also make use of clear crystal, macassar and partially mirrored white glass, while the Vibration dresser is crafted in gold luster, black crystal, bronze and marble and encompasses a blackened pearwood interior.
Elsewhere, Causeuses features crystal and bright nickel taps designed by Pierre-Yves Rochon for THG, while two wall sconces are available in clear crystal and nickel with a silk lampshade.