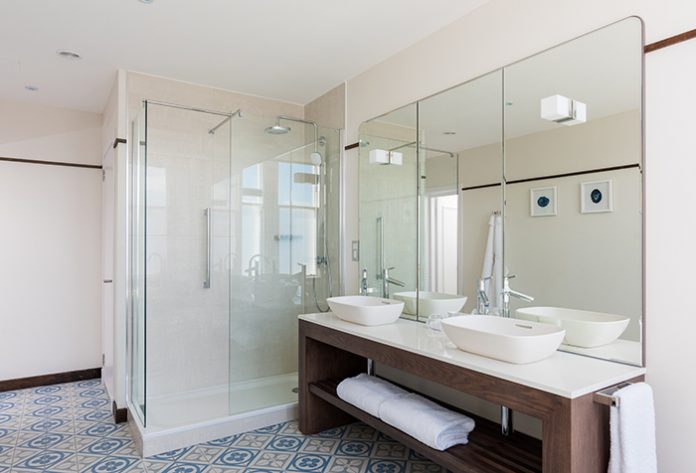 Swiss bathroom manufacturer Laufen has collaborated with design practice ICA on the bathrooms for two luxury boutique hotels along the Scottish coastline.
Part of the Perle Hotel Group, the properties have been designed to offer a place for retreat and luxury; their decor inspired by the breathtaking scenery that surrounds them. The Marmalade Hotel, situated close to the picturesque town of Portree in the Isle of Skye, comprises 11 guestrooms and features a warm and natural palette that is employed alongside contemporary elements. Perle Oban Hotel, meanwhile, is shrouded by views of the highlands and local harbour. Here, the design approach takes cues from the local environment with a palette reminiscent of the nearby water and waves.
"We were looking for elegant bathroom products with a contemporary design aesthetic, with the design functionality of a classic washbasin and WC," explains Associate Director Dawn Campbell. "We required high quality sanitaryware products that would fit seamlessly with our vision for the overall bathroom designs to create a stylish and luxurious result."
Laufen provided 11 Ino washbasins for Perle Oban Hotel and 58 for Marmalade Hotel, using the collection's simple lines to create an inviting design with a simple yet sophisticated appearance. The basins were installed in several sizes: 500x360mm within Perle Oban Hotel, and 500x350mm, 350x350mm and 350x365mm at Marmalade Hotel to fit exacting specifications. WCs from manufacturer's Italian-designed Palomba collection were also installed across both hotels, using their pebble-like shapes to harmonise with the interior schemes.
Greig Denham, Specification Manager for Laufen in Scotland, adds: "The Laufen products look simply stunning in the setting of these two beautiful hotels. We are delighted to have been chosen for this project and feel that Laufen's heritage of iconic design and timeless innovation make it an ideal fit. Laufen has a reputation for its work in some of the world's most prestigious hospitality projects, and we were delighted to be able to utilise our expertise in collaboration with ICA in these stunning Scottish hotels."