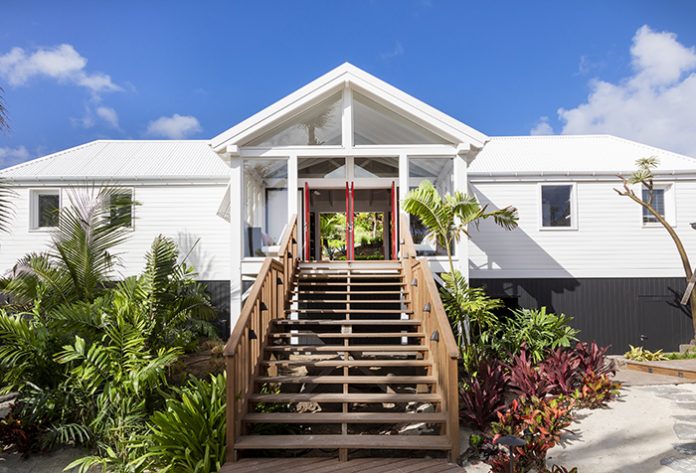 Sereno Hotels has announced the reopening of Le Sereno St. Barth's following damage from the passing of Hurricane Irma in September 2017. With the owning Contreras family deciding to demolish and completely rebuild a significant portion of the property, including over half of guestrooms and public spaces, the original team that created the property was reassembled to undertake the project with the intention of retaining the original spirit of the hotel.
Located on the Island's exclusive Grand Cul de Sac, the new look Le Sereno property features larger rooms and fresh interior schemes across the entire Bungalow Piscine category; the new Waterfront Grade Suite Plage Sud; a redesigned restaurant with a new bar, lounge and extension on to the sand; as well as new spa and fitness facilities, garden space, and a retail boutique. The total key count has also risen from 36 to 39.
"We are thrilled and eager to welcome back familiar faces and new guests to Le Sereno and we have been touched by the outpouring of support after Hurricane Irma," says Samy Ghachem, Managing Director of Sereno Hotels. "Le Sereno has always been known as the most stylish hotel in St. Barth, and we are pleased to raise the bar in the Caribbean yet again. Of course, our signature approach to relaxed luxury and attentive service will remain the same."
For the entirely brand-new Bungalow Piscine rooms designers have inverted the previous parquet floors and white ceiling, with the ceiling now made of intricate oak carpentry while the floors feature warm white stone. New corner couches have been designed to fit the room, whilst ceilings are open and airy with an extended height of 11 feet at their peak. The open-concept bathrooms will be air-conditioned, and feature custom made Iroko wood, oak and stone vanities.
Elsewhere, the restaurant – a fully open-air concept – takes advantage of surroundings to give guests a water view from almost every angle. A new centrally-located bar serves up craft cocktails and an extensive list of wines and spirits.
Building the new Le Sereno provided the brand with an opportunity to take environmental impact into account, with new solar panels, air conditioners with heat exchangers and LED lighting allowing the hotel to significantly lower energy consumption, whilst all of the new construction is made with sustainably sourced woods and stone.
Luis Contreras, owner of Sereno Hotels, adds: "The former Le Sereno was beloved by clients and in the past, when asked about potential renovations at Le Sereno, I always said that the hotel was almost perfect and that we continually invested a lot of money every year so that the property would keep its integrity. After the passing of Hurricane Irma, we had the unique opportunity to completely reimagine the hotel, while still making it feel the same. We have applied our experience from operating the hotel for more than ten years to implement state of the art technology, while keeping all of what made Le Sereno so great. While the hotel is new, our loyal guests will feel that little has changed."