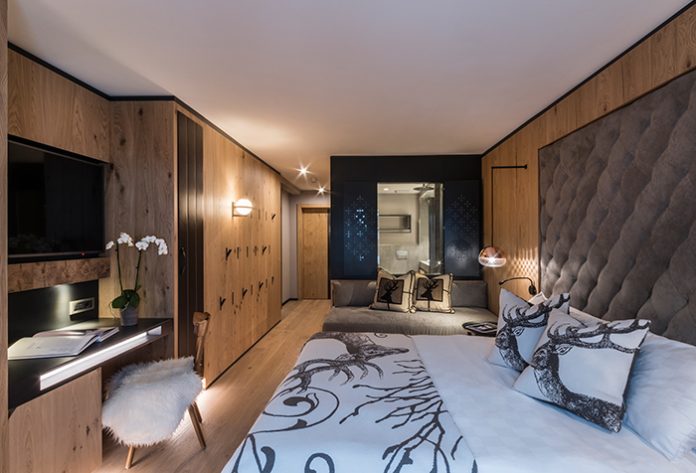 Majestic Mountain Charme Hotel, a ski resort located in Madonna di Campiglio, has undergone extensive renovations to its Majestic guestrooms. Tasked with the project, Studio CaberlonCaroppi Italian Touch Architects aimed to enhance the tradition of the property whilst merging it with the landscape of the Dolomites.
The guestrooms have been carefully designed to create a modern reinterpretation of the classic mountain setting, and boast ample living space thanks to well-equipped wardrobes, hidden doors, retractable hooks, folding-sliding partitions and flexible lightning elements.
Bespoke details can also be found throughout, with cabinets characterised by leather and handmade stitching and an iron bear head complementing lighting elements. Elsewhere, a velvet headboard is framed by wooden volumes and large hanging lamps illuminate a series of black nightstands. The recesses and shelves in the guestrooms are also underlined by the black of a metal sheet, which creates an empty and full effect delineated by the use of LEDs.
The discovery of the room continues with a bear graphic on red print that appears as guests open the wardrobe, revealing itself as a curious detail in line with the traditions of the area. The bear is displayed again on a silk-screened and backlit glass plate behind the bed along with a star, logo and icon of the town.
Meanwhile, modular oak planks cover the walls and floor to reflect the surrounding mountainous environment, while a colour palette of grey and beige add to the alpine atmosphere, and sheet metal finishes provide a touch of modernity. Completing the offer, spacious bathrooms feature double light mirrors and an array of bespoke stoneware.