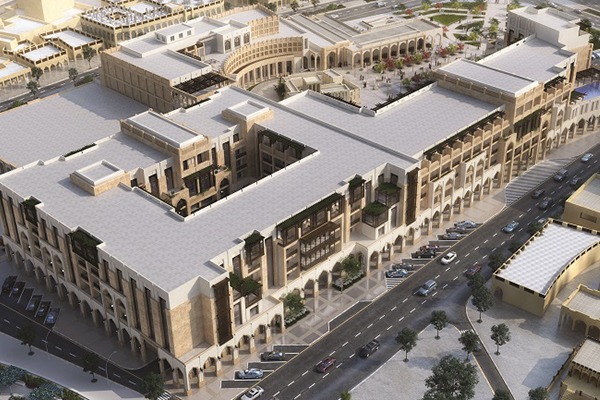 Minor Hotels has announced plans to open three new-build hotels in Qatar in spring 2018. Launching under its Tivoli and Oaks brands, the properties are owned by Katara Hospitality, a global hospitality owner, developer and operator.
Following the hotel group's entry into the Middle East with the rebrand of Souq Waqif Boutique Hotels in Doha, Tivoli Hotels & Resorts will launch Tivoli Al Najada Doha Hotel in April 2018. Set to be located in the centre of the Qatari capital, the five-storey property comprises 151 guestrooms and suites, a selection of dining options, a fitness facility, swimming pool and a business centre, while its upper floors afford panoramic views of the city skyline and West Bay. Surrounded by a piazza of cafes, restaurants and shops, the hotel offers alfresco terrace dining and a ballroom designed to host meetings and events for 250 guests.
Occupying part of the same multi-use complex, Oaks Hotels & Resorts will make its debut in April with Oaks Al Najada Doha. The 100 serviced apartments have been designed to reinvent conventional residential concepts of compound and high-rise accommodations, with minimalist interiors and an Arabian artistic style. The onsite facilities at Oaks Al Najada include an outdoor swimming pool, fitness centre, alfresco dining, a pool bar and 24hour room service. The development marks the third Oaks in the Middle East, joining properties in Abu Dhabi and Dubai.
The two properties will offer a base to experience local culture and traditional cuisine, and are within easy walking distance of the new Msheireb Downtown Doha development, Bank Street, the Museum of Islamic Arts and the Souq Waqif. In addition, the complex is 15 minutes away from Hamad International Airport and close to the central rail terminal, scheduled to open in 2020.
The third development in the pipeline, Souq Al Wakra Hotel Qatar by Tivoli, is a five-star property blending artful Qatari tradition and contemporary leisure in Souq Al Wakra, an oceanfront district 20 minutes from central Doha. Within close proximity to Hamad International Airport, the 101-key hotel comprises two buildings, both former heritage houses where original character has been preserved. Shaped by an open and expansive layout, guestrooms and suites feature classic thatched roofs as well as sea and sand motifs, inspired by Al Wakra's history as a diving and fishing village. Additional facilities include two restaurants serving international and Middle Eastern cuisines, a shisha lounge with sea views, majlis areas, meeting rooms, a Tivoli Spa and business centre.
"The Middle East is a key growth market for Minor Hotels and we are delighted to be opening two new Tivoli hotels and debuting the Oaks brand in Qatar," comments Dillip Rajakarier, CEO Minor Hotels. "We are delivering on our promise when we acquired Tivoli last year to grow the brand within Minor Hotels' footprint and for sure we will see the brand grow further. Qatar will be the second GCC country for Oaks and there is also opportunity to further grow this brand."
The addition of the three Doha hotels will bring Minor Hotels' portfolio to a total number of over 157 properties, with 16 operated in the GCC region across multiple brands including the Banana Island Resort Doha by Anantara. The group has further plans in the pipeline in the MENA region, including debut properties under development in Saudi Arabia, Tunisia and Morocco.
Celebrating its 85th anniversary in 2018, the launch of the properties in the Qatari capital is set to enhance the development of the local hospitality sector and contribute towards the economic diversification, as envisioned in the Qatar National Vision 2030.