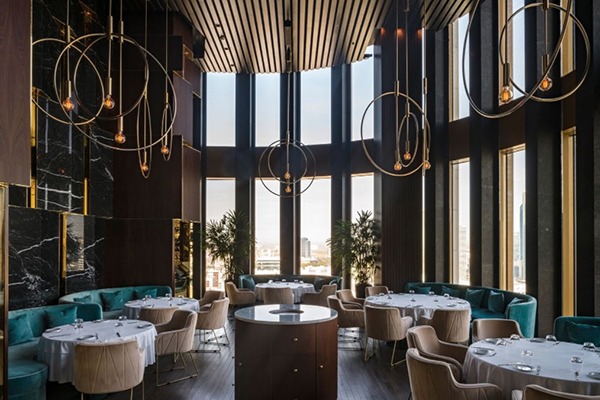 Nulty Lighting has recently completed work on the Ritz-Carlton Hotel Astana, a mixed-use development based in the Talan Towers in Kazakhstan's capital.
Working alongside design studio Blacksheep, Nulty has created two individual lighting concepts – one for the all-day dining destination Mökki, and the other for Selfie, a penthouse sky bar.
Located on the third floor of the development, Mökki features a large open space encompassing different retail zones such as a bakery, deli and grill. The main dining area at Mökki is characterised by a curved timber dropped ceiling, and is illuminated by track-mounted spotlights positioned within the soffit above, allowing light to flow through the timber fins to highlight key areas of the space.
Further, a marble wall wraps the border of the restaurant with carefully intergrated LEDs, washing light up to form a subtle perimeter horizon. Low-level lighting has also been added to the shelves within the bakery and deli, with further integrated lighting in the joinery to illuminate the produce.
Complementing the clean architecture of the various spaces, a brass trough is incorporated into the ceiling to form a grid system, allowing a consistent design aesthetic to flow throughout. Surface mounted spotlights are nestled within the trough to provide general illumination, whilst suspended brass rails allow beams of soft light to graze the marble counters below.
The exclusive Selfie bar and restaurant, meanwhile, is on the 18th floor of the tower and affords panoramic views of the city's skyline, framed by floor-to-ceiling windows. The space exudes ambience, created through a rich palette of jet-black marble, mahogany wood, velvet and copper, while high ceilings featuring deep recessed downlights further enhance the dark interior to place emphasis on the surrounding vistas.
Elsewhere, the restaurant features a slate marble wall installation trimmed with copper edges and illuminated by integrated LEDs, while suspended copper pendants and mahogany wood columns add texture and contrast to the interior.
"Both hospitality areas use light in a very different way," comments Anna Sandgren, Associate Lighting Designer at Nulty. "We created a bright and welcoming space within Mökki, highlighting surfaces and playing with textures and finishes, whereas the Selfie bar and restaurant needed a scheme that created mood and drama adding to the exclusivity of the space."