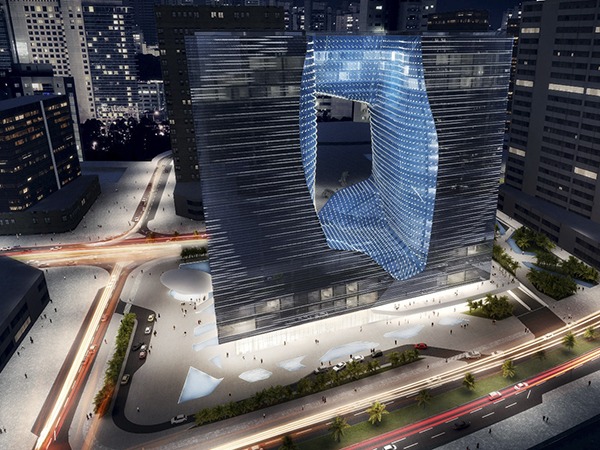 Located in Burj Khalifa District and set to open in 2016, The Opus will feature signature furniture designed or selected by Hadid.
The Opus, which will be unveiled at Cityscape Global 2013, will feature the first 'ME by Meliá' hotel in Asia, after its successful launches in London, Cabo, Cancun, Barcelona, Madrid and Vienna. The hotel will feature Michelin star F&B outlets spread across an area of 250,000 sq. ft. The entertainment options will be selected from New York, Miami, London and Las Vegas.
Each guest's stay will be orchestrated by the dedicated Aura Manager, whose job it is to know the city back-to-front and use this knowledge to make the hotel's service truly bespoke. ME Dubai's facilities and Aura service will also be extended to the owners of the exclusive serviced apartments. The limited number of serviced apartments, located on top of the hotel, will feature four penthouses with private roof terraces. Owners will enjoy a range of customised services.
Mahdi Amjad, Executive Chairman and CEO at Omniyat, says: "Omniyat is thrilled to unveil this ambitious project. Inspired by Omniyat and designed by legendary architect, Zaha Hadid, The Opus will stand out as one of the most striking landmarks on the Dubai skyline and offer the hotel guests and residents of the serviced apartments a truly classy experience."
The project marks the venture into Dubai by ME by Meliá, operated by Meliá Hotels International, one of the world's leading hotel companies that currently runs more than 350 hotels and 90,000 rooms in 39 countries.
"One of the key value additions of The Opus will be the exquisite furniture designed by Zaha Hadid," says Amjad. "As most connoisseurs know, Zaha Hadid's furniture is only available in select Art Galleries and retails in the world".
Amjad comments: "The 95 metre high Opus is a masterwork of design whose repertoire gravitates towards distinction and originality. Brookfield Multiplex has already completed 30 percent of the construction".
Located in one of the most desired places in Dubai, The Opus serviced apartments epitomise an incomparable experience of infusing stylish interiors with a home-away-from-home sensibility. They embody the ultimate urban lifestyle and all that one would expect in terms of luxury, hi-tech, service and privacy – the cherished hallmarks of The Opus.
Dame Zaha Hadid DBE is a visionary architect who was selected in 2004 to become the first woman recipient of the prestigious Pritzker Prize, often referred to as 'the Nobel Prize of Architecture'. Hadid's design for the National Stadium of Japan, the centrepiece of the Tokyo 2020 Olympic Games and a significant iconic addition to Tokyo's skyline, is expected to become a shrine for world sport.
ME by Meliá is an international hospitality brand that spans the world's global capitals of culture and cool with its progressive mix of design-driven and experience-centric approaches.
CEO and Vice Chairman of Meliá Hotels International, Gabriel Escarrer says: "We have been searching for the next city for the ME brand to locate in and found it in this remarkable project in Dubai. It is a fascinating, exciting city that meets the high standards that ME by Meliá offers guests. Zaha Hadid's masterpiece has exceeded our expectations; we are grateful to Omniyat for developing this ambitious project, and for trusting Meliá Hotels International as their key partner."
Omniyat's projects have a clear value proposition with offerings focusing on providing sustained value and tangible, measurable benefits to all stakeholders involved, including shareholders, buyers, and the community.