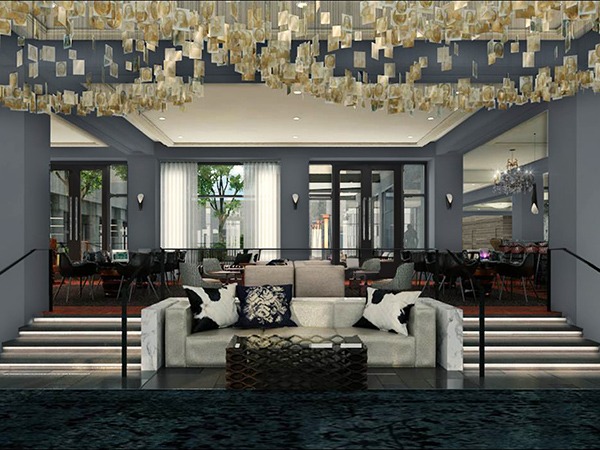 Host Hotels & Resorts and Sage Hospitality has unveiled the plans for the Logan, Philadelphia's Hotel. The highly anticipated project has officially begun its transformation and is slated to debut in late 2015.
The hotel will be part of Curio – A Collection by Hilton and will introduce an art inspired interpretation on modern luxury, a contrast to the traditional décor associated with its predecessor, the former Four Seasons Hotel Philadelphia.
The hotel's name honours former statesman and scholar James Logan and further celebrates the Logan Square location. A dedicated and influential philosopher, diplomat and scholar, Logan represents the soul of the hotel through his life of bettering society and cultural curiosity.
"When the doors re-open, Philadelphia can expect something truly unique, a hotel they will be extremely proud of," commented Walter Isenberg, President and CEO of Sage Hospitality. "Everything about this transformation is inspired by the city, its people, its magic and grit. The Logan will be something that visitors and locals don't just think of as a hotel, but as Philadelphia's favorite place to be. Guests will not want to leave and Philadelphians will want to be there."
Renovations will leave the building transformed in an artful, curated manner. Throughout the lobby and first floor, lighter pastels will give way to dramatic deep ocean blues, metal and stone more often associated with sculpture than Monet. Guestrooms and suites will feature entirely new moods, made possible by newly designed floor to ceiling interiors.
Meanwhile the hotel's meeting and banquet space, along with an all new ballroom, will offer fresh designs suited for modern and innovative events. On the lower level, dramatic, energizing and soothing colour palettes will create an equally inspiring landscape for a new spa and fitness centre. Further, in the most dramatic change in space, a rooftop lounge is set to open in early 2016, offering locals and guests the chance to enjoy the great outdoors overlooking the cultural epicentre of the City of Brotherly Love.
Image courtesy of Dawson Design Associates.