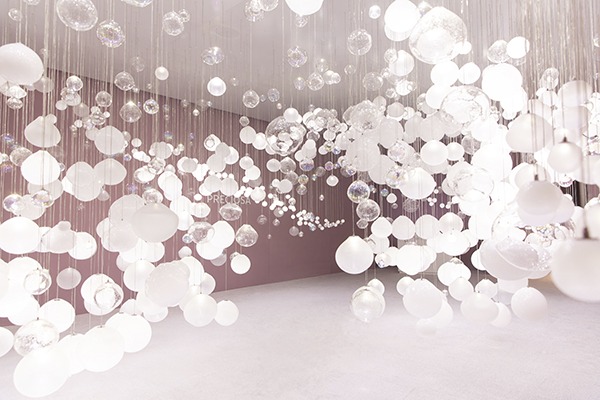 Nestled away amidst the galleries and alleyways of Brera, Czech lighting specialist Preciosa offered visitors an experience out of the ordinary during Milan Design Week 2018. Those who ventured away from the main promenade into the numerous installations scattered around the district – MVRDV's striking 3D Bulgari collaboration and Foscarini and James Wines' Reverse Room also took up residence here – may have stumbled upon the initially unexceptional entrance to Breath of Light.
But this understated introduction was always part of the plan. As curious guests rounded the last curve of a wave-shaped corridor, manoeuvring past the smattering of cameras and a gathering queue, Preciosa's sweeping room-sized installation was slowly revealed. Comprising over 1,000 individual opal crystal bubbles, Breath of Light married Preciosa's traditional artisan ethos with the technological developments currently driving the lighting sector into new territory. Visitors were encouraged to explore the space, find one of the four sensors deployed at the edges of the installation, and, as the name suggests, breathe or blow into them.
Blowing into these sensors triggered a path of bulbs into life; with a chain of others activating along the way depending on how much breath was exerted. Accompanied by a carefully programmed soundtrack that reacted to each exhalation, Breath of Light was revealed as an interactive, multi-sensory design experience.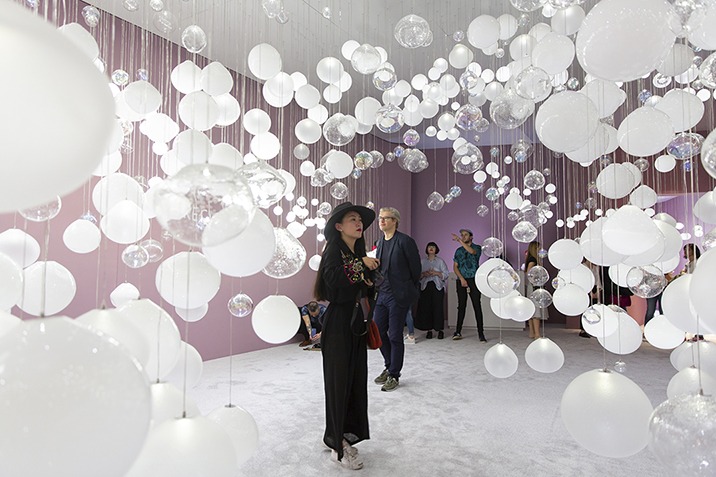 "It started with the idea of doing something more conceptual," explained Michael Vasku, Creative Director at Preciosa. "We wanted to lower the light down to a human level. Most of the time it's a crown, hidden away up there as an unreachable chandelier. Here we want you to get up close."
The breath-as-light function was inspired partly by the manner in which historic chandeliers would have their flames blown out to darken the room, though flipped and reversed so that breath creates the illumination rather than ending it.
"Imagine this in a hotel lobby, where guests don't talk much," mused Preciosa's other Creative Director, Andreas Klug. "This could be a design statement, a way to define spaces and areas, or even an icebreaker. We think it would work great in an atrium, where you could have guests on different levels working together to activate the lights."
When all four sensors were blown into simultaneously, the soundtrack rose with the intensity of the light until a crescendo was reached, wherein every filament across the room lit up for a finale that drew applause from the crowd. This hidden feature occurred several times a day throughout the week, with guests not told about their goal, instead discovering the crescendo as a surprise. Check out the video below to see how the installation worked.
"We didn't want to have signs that told you where to go and what to do, we felt it was much more important for anyone experiencing this to discover the function for themselves," Klug adds. "And the space has been designed so that you can't see it from the street. You don't have to touch a door or curtain to reach it, but the wave corridor adds to the big reveal."
Balancing mother of pearl, opaline and crystal glass bulbs – some irregularly shaped and coloured to create depth and gradient – Breath of Light hints at the combination of interactive technology and artisan craft appearing throughout contemporary lighting and hotel design.
"I think we'll begin to see a lot more public lighting like this in the years to come," Klug concluded. "Creating these kind of destination pieces is definitely becoming more popular in public spaces, and the interactive element adds a dimension of entertainment. We really like the word playful, and I just love seeing the smiles on guest's faces when they discover how it works."