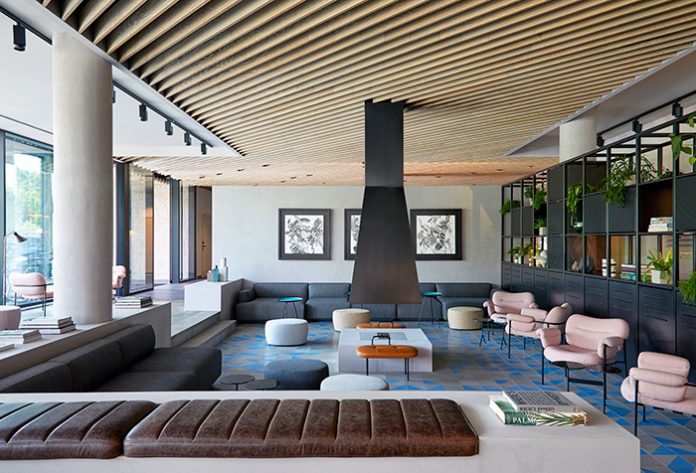 Puro Hotels has joined forces with Polish architectural practice ASW Architekci and international design firm Conran + Partners to open a new flagship hotel in Kraków. Occupying a corner site on Halicka Street in the city's former Jewish quarter of Kazimierz, the 228-key property features a 'bohemian modern' design concept that fuses the history, authenticity and art culture of its location with the brand principles of the Puro Group.
On entering Puro Kraków Kazimierz, guests are welcomed by a bespoke reception desk, while the lobby floor presents an etched outline of Kazimierz quarter street pattern. The wall behind the reception area features a bold graffiti art installation by Polish artist Nawer, who provides a snippet of the wider artwork collection found throughout the hotel.
Aside from the lobby, the ground level houses Mak bakery and café, which connect directly with the street frontage. Mak encompasses a sunken lounge, open fire and sharing table, and serves freshly-baked bread, pastries and cakes, including traditional cheesecake and poppy seed bread. The hotel also offers guests a taste of the locale at Halicka restaurant and an independently-run, destination cocktail bar.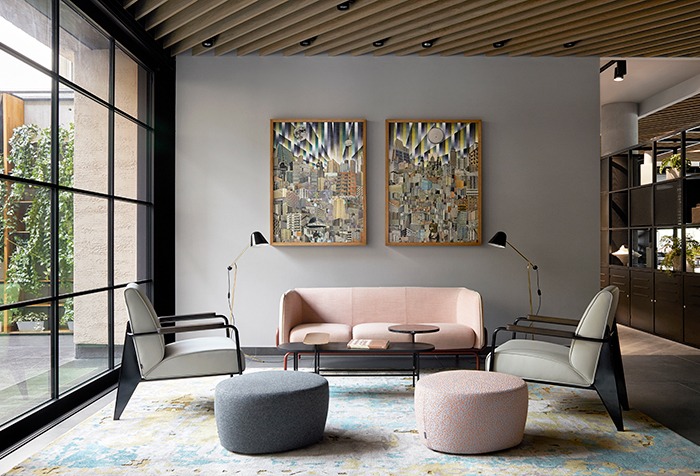 Overall, the palette on the ground level mixes natural, raw materials such as terracotta, faded bronze and reclaimed timber with bold splashes of colour balanced with the black-and-white layered tones of the Puro brand. A base palette also runs throughout the hotel and has been adapted to create a defined personality and character in each of the key spaces.
The design approach, meanwhile, seeks to draw upon the various historic and cultural layers of Kazimierz – including the area's former warehouses and workshops as well as its more recently-acquired galleries and street art – which have combined to bring a decayed charm to one of city's most vibrant quarters to live and work in.
"Our design for the Kraków Kazimierz Hotel clearly draws upon the historic heritage of the area and presents guests with the story of the hotel's relationship to Kazimierz," says Simon Kincaid, Director, Conran and Partners. "It is a concept which we have termed 'Bohemian Modern' and which aims to encapsulate the gritty, artisan, alternative ambience of this rapidly-changing neighbourhood of Kraków. The design connects guests to the forward-looking, innovative principles of the Puro approach as well as to its bold branding.
"At the same time, it draws upon a rich industrial heritage while still offering a strong residential feel to the overall hotel design which is approachable and comfortable for both new and returning guests. For Puro's flagship offer, we have aimed to deliver a confident hotel with a distinctive attitude but also one which sits clearly within the Puro portfolio. It is a venue which establishes a strong connection with its locality."
Upstairs, guestrooms are flooded with natural light thanks to full-height windows, and each feature a generous shower area. An etched, grooved, fluted glass screen physically separates the shower from the bedroom while allowing light and abstracted views through. The beds are backed by bespoke, woven headboards and covered by specially-designed throws referencing one of Conran and Partners' early concept sketches for the property.
Hand-knotted rugs from Italian brand Golran 1898 are also employed alongside &tradition's Danish heritage lighting and a range of furniture crafted by Carl Hansen & Son, while pieces from Fritz Hansen, Moroso and Kettal can also be found across the hotel.
Wellness and fitness facility Prisma, meanwhile, offers guests an urban oasis with gym, sauna, steam, beauty stations, treatment rooms and relaxation area. The space incorporates bold, graphic, contemporary rooms that fuse natural materials with industrial finishes and vibrant colours including emerald-coloured tiles, vivid pink flooring and a saturated blue ceiling.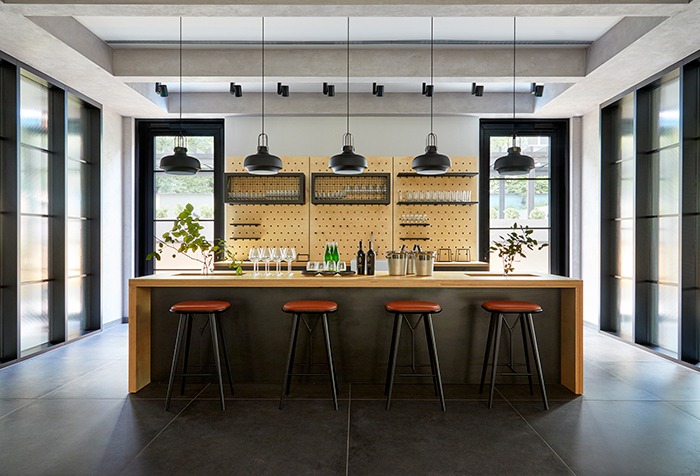 Elsewhere, events and function area The Workshop comprises four meeting rooms that can be configured from a series of individual spaces to a single space accommodating up to 100 guests. The design takes its inspiration from the site's industrial heritage and seeks to reference the artisan economy that was once active in this part of the city. A monochrome palette uses concrete, Crittall glass windows and plywood to create four distinctive room themes, while a large collection of enamel, glass and terracotta objects also help to add depth and character.
An atrium and other public-facing areas further incorporate design references to the plants and foliage that typically overhang the old walls of the Kazimierz district and visually reinforce the hotel's link with its location. The atrium area also features a dramatic, hanging light installation inspired by the overgrown courtyards of the area.
Throughout the hotel, artwork curation was undertaken by Puro, while Conran + Partners styled The Workshop as part of a collaborative design approach. Polish street artists and local artists were commissioned to showcase their paintings as part of the guestroom designs, as well as in the reception and bar areas. Among the artists whose works are represented are Mateusz Szczypiński, Javier Martin, Tom French and Dominik Tarabański.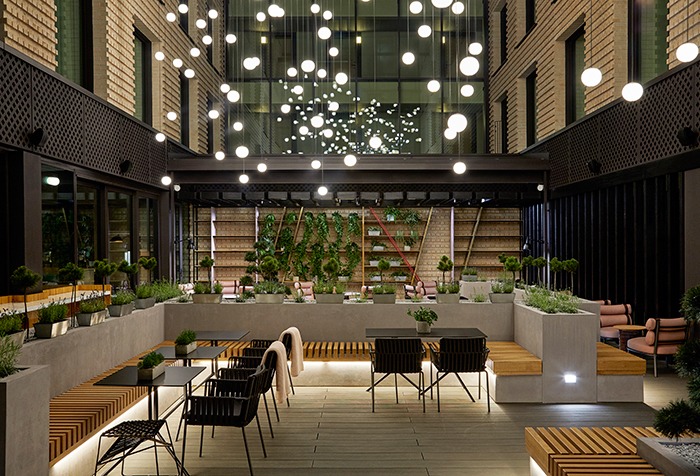 Rune Askevold, Managing Director of Puro, concludes: "All our hotels offer a complete experience for guests, with a focus on providing a creative and artistic environment in a social and cultural hub. Conran and Partners' approach to the interiors of the Kraków Kazimierz has perfectly encapsulated our ethos and created a benchmark in terms of the way the Puro brand will evolve in the future."