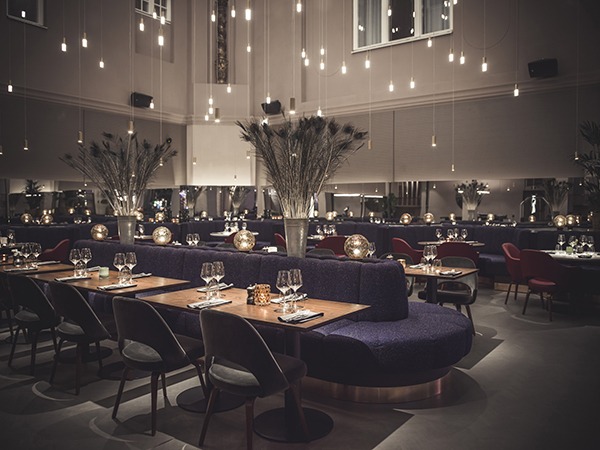 Stockholm's Radisson Blu Strand Hotel, originally launched in 1912 for the Olympics, is currently undergoing a refurbishment to bring it in line with the brand's lifestyle offer.
The property's 170 guestrooms and suites are being designed by architectural agency Wingårdhs, comprising Scandinavian design and amenities such as high-speed Wi-Fi and 24-hour room service. The Tower Suite, located on the top floor, features a private roof terrace and panoramic views of Stockholm.
Wingårdhs were also tasked with the redesigning meeting spaces, lobby, restaurant and bars, where design furniture and classics from Fritz Hansen, Gubi and Flos, complement the rich history of the hotel.
Leila Atlassi, architect at Wingårdhs in Stockholm, comments: "We believe in creating a dynamic experience by amplifying the building's own character. We wanted the new elements to be a distinctive addition to the original appearance.
"To create a warm and welcoming atmosphere, the interior tonality has been set from natural materials like stone, wood, leather, metal, and concrete in their natural colours. A specific tone of grey is noticed on the walls – Strand Grey, and constitutes the base in the interior concept."
The Strand, the hotel's food and bar concept, will offer native cuisine in a Swedish brasserie environment. Interiors feature velvet seats in dark greens and purples, a contrasting monochrome floor, and views over the water of Nybrokajen.
Located in Blasieholmen district of Stockholm, a short walk from attractions such as Djurgården, The Modern Museum, Nordiska Kompaniet Department Store and Stureplan, the hotel provides access to shopping, nightlife and cultural experiences.
Eva Kalling-Hansson, General Manager at Radisson Blu Strand Hotel, adds: "We are delighted to welcome guests to the newly refreshed stylish interiors of Radisson Blu Strand Hotel, Stockholm, where our personalised guest services and excellent local knowledge awaits, allowing guests to experience a true taste of Stockholm as seen only by locals, and creating memorable moments for all."