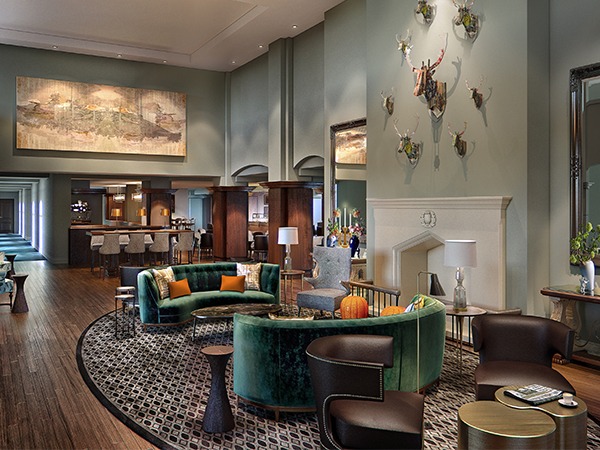 RPW Design has announced the extensive refurbishment of the five-star resort, Fairmont St Andrews.
The highly anticipated refurbishment will feature a complete redesign of the Atrium, incorporating a bespoke 60m long ceiling sculpture by artist George Singer, a new restaurant and the Kittock's Bar. RPW Design will also redesign the hotel's suites and guestrooms, showcasing the deep-rooted connection between the history of St Andrews and the exterior landscape. The transformation will see all public areas completed by July 2016, while guestrooms and suites will be completed by May 2017.
The lobby will display contemporary velvet wall hangings, inspired by the varying landscape of St Andrews, developed and printed by avant-garde fabric and textile designers, Timorous Beasties. Meanwhile, upholstery fabrics and leathers have been selected from Scottish interior design companies such as Andrew Muirhead and Bute Fabrics.
The atrium will feature George Singer's sea-inspired 'Zephyr' artwork, creating a focal point for the room. Meanwhile, a natural colour palette including layered earthy textures and an eclectic furniture collection will create a relaxed, inviting atmosphere. Following through into the restaurant, dramatic lighting and refined materials feature a green and gold colour scheme, while soft velvet wall drapes and bespoke screens soften the architecture of the space and give a sense of intimacy.
Heather McLellan, Senior Designer for the project explains: "RPW Design has drawn on a rich colour scheme with nautical elements that create a warm atmosphere for drinking and dining. A revised layout opens up the space to the lobby and a new copper coffee counter links the reception to the bar area".
A carpet design based on the markings found in the nearby River Tay estuaries, along with the use of materials such as timber, copper and rope strengthen the connection between the interior design and history of St Andrews and its surrounding old fishing villages. Meanwhile, the bar area includes bespoke pendants from Edinburgh lighting manufacturers RS Robertson.
Elizabeth Lane, Director of Projects concludes: "It is a wonderful opportunity to be part of the revival of this hotel property which simply has a breath-taking location which we have made a focal point in the renovation. We are extremely happy to be working with Kennedy Wilson and Fairmont Hotels & Resorts on this project."
Situated on a 520-acre estate on the east coast of Scotland, the luxury resort offers peaceful surroundings and panoramic cliff top views of St Andrews and the North Sea.
The five-star property currently hosts two championship golf courses and a spa complex; with the recent £17m redevelopment benefitting the entire resort.