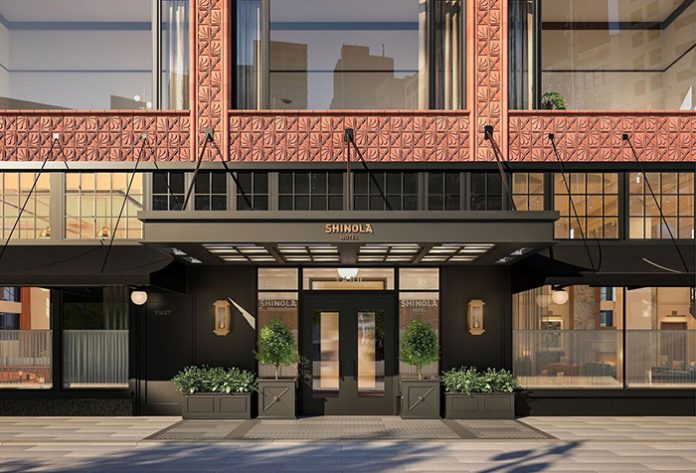 The first Shinola Hotel – accommodation by the American luxury goods brand – is set to open in downtown Detroit's shopping district this December. A product of a collaboration between two Detroit-based companies in Shinola and developer Bedrock, the project has worked with a series of locals throughout the property to create a distinctly Detroit experience.
Comprising 129 residential-style guestrooms, as well as 16,000ft² of retail and F&B space including a mezzanine lounge, conservatory and event space, the property unfolds around an activated alley hosting the hotel's outdoor beer hall. Occupying two restored buildings in the onetime T.B. Rayl & Co. department store and a former Singer sewing-machine store, the structure is joined by three new annexes designed to breathe life into the block.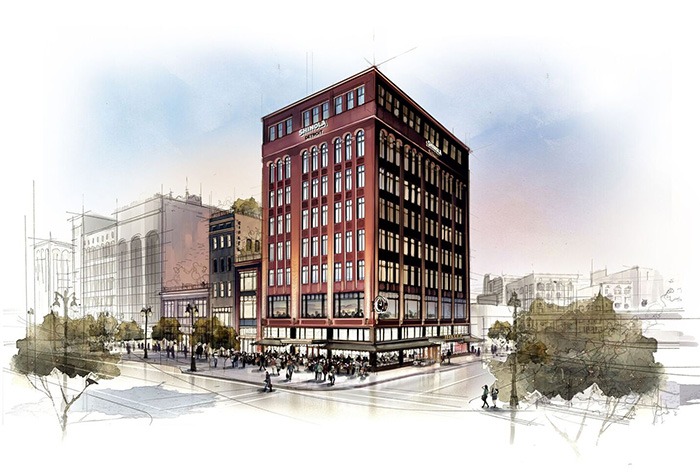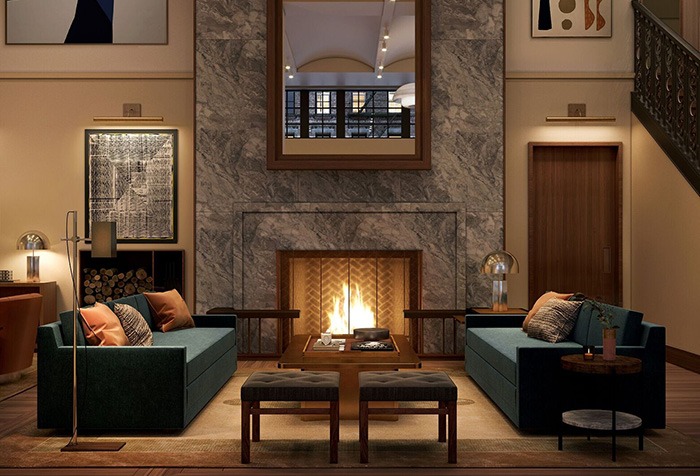 Designed by New York's Gachot Studios, whose portfolio includes New York's Smyth Tribeca Hotel, Brooklyn's Royal Palms Shuffleboard Club, Marc Jacobs and Shinola flagship stores in New York and LA, the scheme incorporates furniture, wallcoverings and accessories custom-designed and primarily manufactured in the US. With ephemera and fittings produced in Michigan by partners including Pewabic, Booms Stone Company and Great Lakes Stainless, the property seeks to create an experience channelling elements of Detroit's history and character.
Inspired by private clubs in London, the palette combines shades of caramel, camel, and grey, along with soft blush, deep greens and rich woods. In-room materials like oil-rubbed bronze, soft leather, plush mohair and American white oak evoke the aesthetic of appointed homes, whilst cream hallway walls throughout the property are adorned by accents of Shinola blue, a signature colour developed by Gachot, influenced by a lone paint chip unearthed in the Singer building during renovations.
Detroit's Kraemer Design Group served as Architect of Record and Historic Consultant on the hotel, undertaking the complex and delicate project following revivals and newbuilds including The David Whitney Building, Vinton and Broderick Tower. Elsewhere, Library Street Collective, a Detroit-based gallery, will curate a mix of art for the hotel with a broad representation of both local and international artists. Meanwhile, the reception area has been envisioned as its own work of art, with Detroit artist Margo Wolowiec covering four walls, floor to ceiling, with custom woven panels.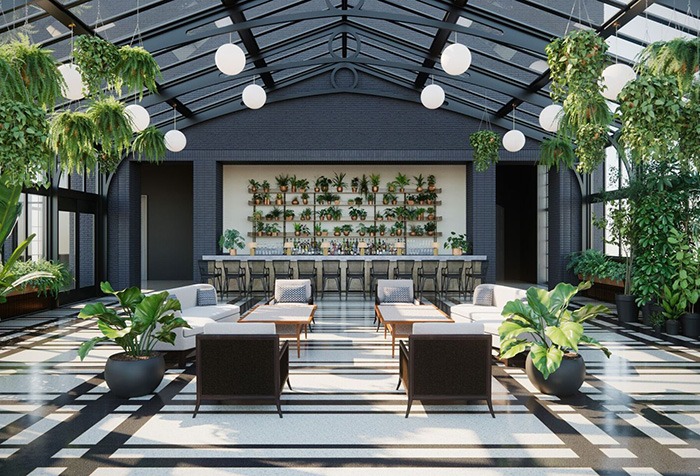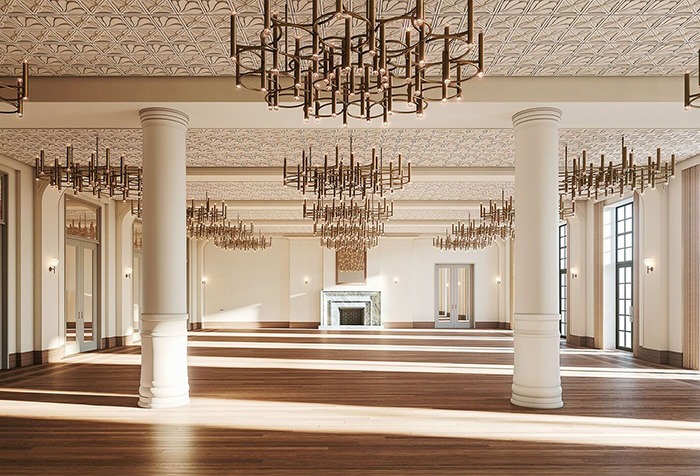 Wall and floor coverings were all designed and created bespoke for the hotel and inspired by the look and feel of the buildings' original architecture. Marbleised wallpaper mimics marble found buried in the Rayl's building, whilst Waterworks, an American bathroom design company, partnered with Shinola on custom fixtures that take cues from caseback details of Shinola's luxury watches. Blankets, woven in the US, carry a signature Shinola Hotel stripe pattern, and Heath Ceramics have created custom tableware for the Living Room and in-room dining.
For the food and beverage programme, Shinola turned to Andrew Carmellini and NoHo Hospitality Group partners Josh Pickard and Luke Ostrom, whose portfolio includes eateries and bars like New York's The Dutch, Locanda Verde, and Westlight. At the Shinola Hotel, NoHo Hospitality Group will oversee San Morello – an urban Italian neighbourhood restaurant influenced by the coastal towns of Southern Italy and Sicily – along with Evening Bar, a classic American bar serving seasonally crafted cocktails and bar bites, and The Brakeman, an American beer hall featuring rotating drafts of craft beers from the Midwest.
For operations of Shinola Hotel, Shinola and Bedrock have tapped Mac&Lo Hospitality, whose founders, Sergio Maclean and Audrey Laurent, have collaborated with restaurant, hospitality, and luxury brands, including The Mercer, The Pod Hotels, The Bowery, The Marlton, and Ace.