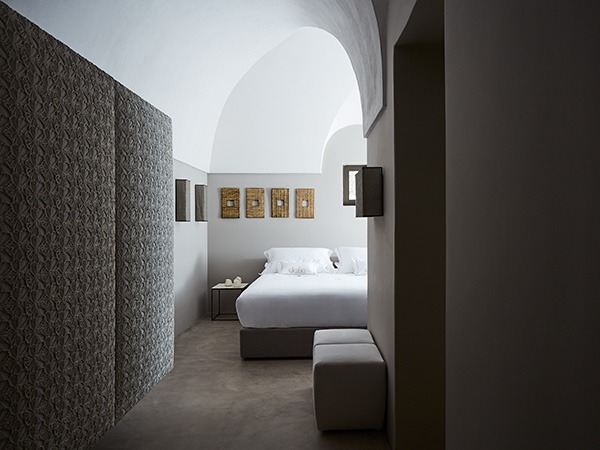 Sikelia Pantelleria has opened on the Italian island of Pantelleria, located 100km south west of Sicily.
The 20-suite luxury retreat is constructed from an ancient stone habitat or dammuso, and has been created by Giulia Pazienza Gelmetti, owner of Pantelleria's Coste Ghirlanda Estate.
Pazienza Gelmetti comments: "The idea for Sikelia came to me some time ago – Pantelleria has so much to offer and it needs to be shared with people who care about fine things. For the last ten years, I have worked to create an artistic and emotional residence that reflects the wild beauty of Pantelleria using metal, glass and the highest quality fabrics. Each of the 20 suites has its own unique design and identity, which links the property's original monastic architecture with refined contemporary elegance."
Katherina Pazienza Gelmetti, niece of Giulia, was responsible for the interiors; high quality fabrics, metals, concrete and glass underpin the design within the ancient dammusi; while Francesco Alessandrelli integrated the technical detail of the plans with formal, historical research. In addition, artist Gennaro Avallone's paintings, pieces of furniture and decorative objects have been introduced to the communal spaces as well as all the suites. Working like an archaeologist, Avallone reflected ancient pottery, glazed painted tiles and predominantly dark shades throughout the property. Bronze and glass stand alongside stucco and concrete throughout.
The property also offers a restaurant that will introduce Pantelleria's local Arabic and African influenced flavours to traditional Italian recipes. Thema' operates in partnership with Milan's renowned Il Ristorante Trussardi alla Scala and serves up regionally sourced ingredients and traditional recipes are created in consultancy with the chefs of Trussardi alla Scala, that use local produce from the Coste Ghirlanda Estate.
Completing the offer is a natural open air spa, formed approximately 300,000 years ago from Pantalleria's volcanic origins.