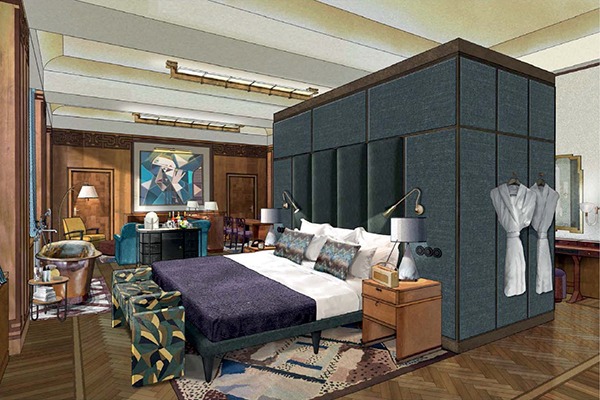 Soho House has announced that its Amsterdam members club will open in Summer 2018, at the end of July. Situated within the Bungehuis building on Spuistraat, the canal-side Soho House Amsterdam will comprise 79 guestrooms, a rooftop pool and a floor of club space, as well as a Cecconi's restaurant and Cowshed spa on the ground floor. There will also be space to park 75 bikes, with a small workshop for repairs.
Originally built in the 1930s as a trading office, and serving since the 1970s as the humanities building for the University of Amsterdam, The Bungehuis is a six-storey structure covered in limestone and granite, with bay windows on each side and Art Deco detailing. The interior features original architectural accents in bronze, stained glass, and birch timber as well as glazed tiles.
The 79 guestrooms are spread across floors one to three, and range in size from tiny to extra-large options. Each of the guestrooms brings together antique pieces and specially designed furniture and rugs, with bed throws and fabrics inspired by the original windows in the grand Bungehuis staircase, and tables, poufs and sofas designed by Soho House.
The first floor guestrooms comprise the club's 'monumental' option spaces, with big, large and extra large configurations available along a listed corridor clad in limestone, restored tiles, art deco lighting, original wall panelling and mosaic floors. Each guestroom retains its 1930s timber panelling and stained glass windows, whilst in the centre of larger rooms sit specially designed pod bathrooms, clad with fabric and featuring freestanding copper bathtubs.
The ground floor of Soho House Amsterdam is open to the public, and features the aforementioned Cecconi's – serving up hand-made pasta and seafood dishes from a dining area overlooking the canal, and featuring a retractable glass roof – as well as the Cowshed spa and a series of private hire rooms. Also open to the public, the Cowshed spa comprises six treatment rooms, two barber chairs and is decorated with painted wooden ceilings and floors, and light linen fabrics.
Elsewhere, on the 5th floor resides the main members space, also overlooking the canal, and bringing together bold fabrics, antique furniture mixed with specially designed pieces, geometric rugs and a high-gloss black floor. The wall panelling is inspired by listed detailing within the Bungehuis, with the original blue tiling and a bar clad in fabric inspired by the Ons' Lieve Heer op Solder 'hidden church' in the city. The adjacent library features its own bar and small workspace area, whilst a House Kitchen above serves food from a large open kitchen and deli counter.
A rooftop bar and swimming pool, a DJ booth next floor complete amenities, whilst a screening room with velvet armchairs and a signature gym with Technogym equipment and yoga studios flesh out the wellness offer.
Throughout the hotel, interiors incorporate furnishings, lighting, tableware and textiles from Soho Home, a collection from Soho House inspired by pieces seen in Soho Houses worldwide. Collection highlights here include a fan accent velvet chair in burnt orange, cushions and rugs inspired by the paintings of the Dutch masters and an upholstered bed featuring a headboard which reflects the silhouettes of the rooftops of Amsterdam. Amethyst and amber glassware, statement lighting and a pool towel designed in a colourway unique to the House also feature.
Tying the scheme together, The Soho House Amsterdam art collection, curated by head of collections for Soho House Kate Bryan, is made up of works by local artists; showing a contemporary take on 15th and 16th century Dutch art. The collection acknowledges the history of Dutch art; a self-portrait wall in homage to Rembrandt and Van Gogh, works dealing with landscape that reference the great golden age of Dutch landscape oil painters, and a series of still life works in Cecconi's.