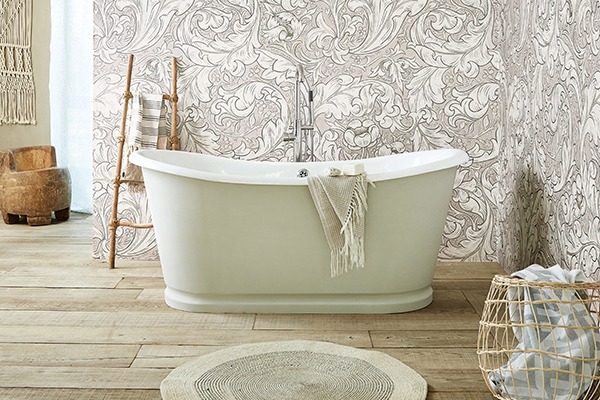 Inspired by diary entries from William Morris's Icelandic expedition in 1871, Morris and Co. has launched a collection of five printed fabrics, six embroideries, ten wallpaper designs and 12 weaves.
Named North and Kindred – with the latter name chosen to reflect Morris's strong affinity with Nordic history and culture – the two collections feature archived designs that have been carefully reworked to reflect the colours of his Icelandic journal, with gentle mica finishes and metallic highlights sitting alongside fine embroidery and chunky textures.
A neutral Pure Morris palette of White Clover, Stormy Grey, Flax and Linen is used throughout both collections, accented with subtle tones such as Horned Poppy, Faded Sea Pink and Black Ink. To complement North's featured designs, Kindred includes a range of contract weight semi-plains and small-scale weaves.
"Inspired by his beautiful descriptions of Iceland's topography, flora and fauna, we have been able to craft two fabulous new collections which accurately represent all that Morris held dear," comments Rebecca Craig, Design Manager at Morris and Co. "Luxurious, high quality and natural, North and Kindred make up an incredibly special selection of fabrics, wallpapers and weaves that we think Morris would be proud of."
Observant of the Icelandic outdoors and original Morris designs, North and Kindred capture the tenacity of dramatic landscapes reaching to soft misty shores, with delicate watercolour tones giving way to a celebrated natural beauty, fluid with movement and elegance.
The launch further comprises three pattern books: Pure Morris North Fabrics, which includes a selection of weaves, embroideries and prints, Pure Morris North Wallpapers and Pure Morris Kindred Weaves, featuring a selection of upholstery fabrics. Style Library Contract's bespoke service also means it can provide special colourways and specifications to create a complete project solution.